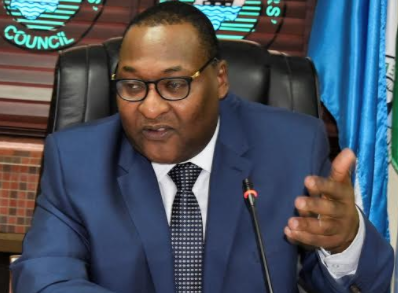 Clearing agents have described as "intellectual fraud" fresh moves by the Nigerian Shippers' Council (NSC) to reintroduce the controversial Cargo Tracking Note (CTN) as a mandatory requirement for importation at the nation's seaports.
Recall that the CTN was suspended in 2015 by the Federal Government following resistance by stakeholders who argued that the policy would increase the already bloated cost of doing of doing business at the nation's seaports. 
Director, Consumer Affairs Department of NSC, Cajetan Agu, said in Lagos last that the CTN, if revived, would help curb criminalities in importation of cargoes.
"We believe the project will turn around the fortunes of the maritime sector. Anybody who wants to criticise the system should come up with clear points on why it should not be implemented. 
"Generally, Nigeria has phobia for automation. CTN is an automated system just like single window. Nigeria will remain the only country in West and Central Africa to implement the single window project. The option is left for us to implement best practices, compete and survive or perish," Agu said when he led a team of the NSC on a visit to the Assistant Inspector General of Police, Marine Command, Muhammed Uba Kura.
However, reacting to the planned reintroduction of the policy, Vice President, Air Logistics, National Association of Government Approved Freight Forwarders (NAGAFF), Segun Musa, urged the police leadership to guide against being used by the NSC to actualize the CTN, which he described as an intellectual fraud.
He stated that CTN plays no significant role in shipping but will add to the cost of doing business and to enrich the pockets of few individuals that are only interested in creating opportunities for themselves. 
He accused the NSC of aggressively lobbying stakeholder and agencies in the sector including Customs to bring the CTN back to the port through the back door.
"The interest behind this document is laden with intellectual fraud. It was killed by the National Assembly the last time it came but this time; it would not come out of the womb before evaporating. 
"Monitoring inflows of traffic into Nigeria has already been covered by Customs with the introduction of advance manifest which help them to share intelligence with other security agencies like the police, Department for State Security (DSS), NAFDAC, SON and others. So why do we need CTN?
"NSC has already been warned from pushing or lobbying stakeholders to push for realization of the fraudulent document called CTN. The lobby by the NSC did not start with the police. It started with Customs. So it is a lobby approach because the AIG Marine cannot say anything technical on CTN. He only made comment based on what was presented to him. So NSC is looking for people they can lobby so that the CTN can be represented back and they will have more people that will back it up," Musa told SHIPS & PORTS.