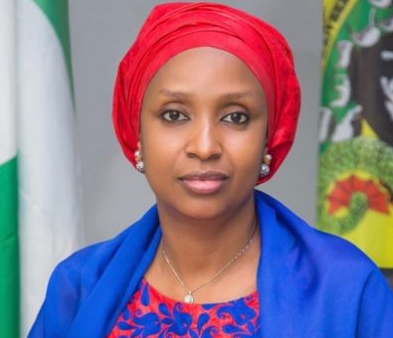 The Federal Government on Friday dispatched an official letter of suspension to the embattled Managing Director of Nigerian Ports Authority (NPA), Hadiza Bala Usman.
Usman was suspended on Thursday but the official communication was not sent to her until late on Friday, a Transport Ministry source informed SHIPS & PORTS.
The letter, according to the official, was served Bala Usman on Friday afternoon through the NPA liaison office in Abuja.
Bala Usman has also reportedly acknowledged receipt of the suspension letter.
In the letter dated May 6, the Permanent Secretary of the Ministry of Transportation, Magdalene Ajani, wrote: "Consequent upon the approval of Mr President to constitute an Administrative Panel of Inquiry on the Management of Nigerian Ports Authority, I am to convey the approval of the Honourable Minister to request you to step aside as the Managing Director of Nigerian Ports Authority."
"In view of the above, you are required to hand over to Mohammad Koko (Executive Director, Finance & Accounts) with immediate effect.
"Please, accept the warm regards of the Honourable Minister."
The Minister of Transportation, Rotimi Amaechi had written to President Muhammadu Buhari on March 4 stating that the yearly remittances of operating surpluses by the NPA from 2016 to 2020 was far short of the amount due for actual remittance.
Amaechi, whose Ministry supervises NPA, said the agency under Bala Usman had not been financially prudent in the management of agency since 2016.
Amaechi prayed the President to cause an investigation to be carried out to ascertain the financial records of NPA.
Titled "Remittance of Operating Surplus to the Consolidated Revenue Fund (CRF) account by the Nigerian Ports Authority from 2016-Date," the Minister drew the attention of the President to what he believed counts for financial misdeeds.
The letter read: "It has been observed from the records submitted by the Budget Office of the Federation that the yearly remittance of operating surpluses by the Nigerian Ports Authority from the year 2016 to 2020 has been far short of the amount due for actual remittance.
"In view of the above, I wish to suggest that the financial account of the activities of NPA be investigated for the period 2016-2020 to ascertain the true financial position and the outstanding unremitted balance of one hundred and sixty-five billion, three hundred and twenty million, nine hundred and sixty-two thousand, six hundred and Ninety-seven naira only (N165, 320, 962, 697)."
Two weeks later (March 17), President Buhari minuted on the letter thus: "HMT, your above prayer is approved," followed by yet another letter signed by Professor Ibrahim Gambari, Chief of Staff to the President conveying Buhari's approval for the investigation of the alleged financial impropriety.