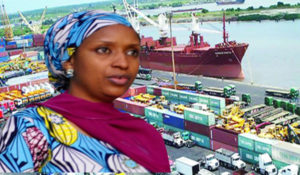 The Nigerian Ports Authority (NPA) is to collaborate with the Japanese Government in areas of technical and manpower development to institute a regime of operational efficiency in Nigerian ports.
NPA's Managing Director Hadiza Bala Usman stated this in a message to a business meeting held at the corporate headquarters of NPA on Tuesday in Lagos.
The General Manager, Public Affairs of the authority, Effiong Uduonofit, in a statement, quoted Bala Usman as having said this during the meeting she held with  Gaku Sato, the First Secretary, Embassy of Japan in Nigeria of the Economic/Development Cooperation, .
Udoonofi said Prof. Idris Abubakar, the Executive Director, Engineering and Technical Services of NPA represented Usman at the meeting.
Usman said the management was aware of the smooth relationship and technical collaboration existing between the Japanese Government and NPA over the years, especially in the area of training.
She said: "The NPA management is desirous of nurturing this dispensation to maturity.
"We look forward to more training, especially in the area of Information Communication Technology (ICT) and human capital development, in view of the changing trends in the sector.
"This will impact positively in the productivity of NPA's operations across the board."
She called for a more robust relationship between Nigeria and Japan to promote the goal of the present management in the country concerning trade facilitation within sub-Sahara Africa and beyond.
Usman assured Sato that NPA management was upholding the Federal Government's 25-year Port Master Plan.
She said the Master Plan served as "a guide toward the implementation of the various policies and development in the sector aimed at making Nigerian ports the hub in sub-Sahara Africa".
Earlier, Sato said that his country was exploring trade and investment opportunities in Nigeria, through a most-efficient infrastructure and manpower development, especially in the port environment.
He noted that the maritime sector played vital role in the life of any nation through windows and corridors of trade facilitation.
Sato said that more than 30 Japanese companies were currently doing business in Lagos in the area of manufacturing, car/motor bike assembly and entertainment among other trading establishments.
He expressed the hope that such business would grow with the renewed synergy among the two countries.
Sato solicited management's assistance, through the provision of a blue print and platform, to aid other teams expected in Nigeria to access the readiness of NPA in future collaborations.
He said it would also ensure development of the port sector.
Sato said that the Japanese Government was willing to refurbish the Apapa Power sub-station through the Japanese International Corporation Agency (JICA).
According to him, the sub-station's refurbishment will contribute toward seamless port operations.
According to Sato, the Japanese government has carried out similar projects in Jebba and Abuja respectively.