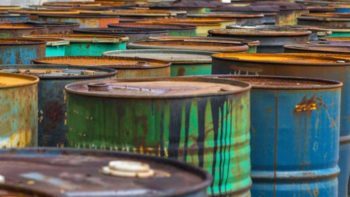 As another toxic waste saga unfolds in Koko, headquarters of Warri North council, Delta state, the Itsekiri nation has said it would drag anyone culpable to court unless they take satisfactory efforts to remedy the situation.
A business concern, Ebenco Nigeria Ltd is being fingered among other collaborators on involvement in the recent alleged dumping of toxic waste in the historical Itsekiri community.
National Association of Itsekiri Graduates (NAIG) in a statement signed Tuesday in Warri by its president, Collins Edema, condemned the indiscriminate dumping of toxic waste in Koko.
"Laboratory analysis has shown that the sludge being dumped by Ebenco in Koko is not only carcinogenic but toxic, hence dangerous to both agricultural produce and aquatic life in Koko town.
"We frown at this level of corporate irresponsibly. The company should urgently address this issue, carry out remediation on the affected soil and pay compensation to people whose land have been polluted so as not to face any action from NAIG," the group said.
NAIG further lauded Acting President Yemi Osibanjo on his meeting, in Abuja on Monday, with international development partners towards kick starting the stalemated Ogidigben Export Processing Zone (EPZ) in Warri South West council area, Delta state.
The $16B EPZ, also known as the Gas Revolution Industrial Park (GRIP) which has failed to make progress beyond the groundbreaking by former President Goodluck Jonathan, is expected to engage thousands of persons in direct and ancillary jobs when kick started.
"The meeting of Osibanjo with the international developers and investors will ensure takeoff and accelerated construction of the project soonest", the body noted.
Copyright Ships & Ports Ltd. Permission to use quotations from this article is granted subject to appropriate credit given to www.shipsandports.com.ng as the source.