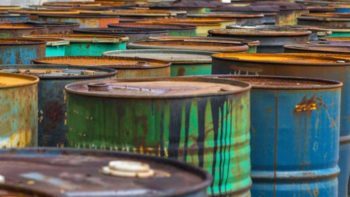 The Delta State Government on Wednesday declared that the result of the laboratory test carried out on the alleged toxic waste discovered in Koko, Warri North Local Government Area of the state recently had only showed "minimal level of toxicity."
The Commissioner for Environment, John Nani, who made the declaration at a press conference on the outcome of the laboratory test, noted that no environmental remediation was required as the alleged toxic substance was not capable of contaminating groundwater.
Nani, who led a team of ministry officials to the site for on-the-spot assessment of the substance, said samples of the substance were randomly collected for further laboratory analysis in Benin-City and the result was negative.
The environment commissioner gave the breakdown of the outcome of the test the toxic parts of the crude oil as "PAH, BTEX, Hg, Cd, Pb, As, Cr, V, Ni," saying they were analyzed and compared with the Department of Petroleum Resources (DPR) intervention values.
He added that findings showed that the substance was a product of crude petroleum.
"The result also shows that the substance has no serious threat to human health, aquatic lives, vegetation and environmental sustainability. "Consequently, no environmental remediation will be required as samples falls below DPR intervention values. The samples collected from Ebenco Global Ltd, Koko is a solid non-toxic waste."
"It is overtly convincing that DPR regulation as contained in the Environmental Guidelines and Standards for Petroleum Industry in Nigeria was carefully followed in the process of the substance," Nani added.