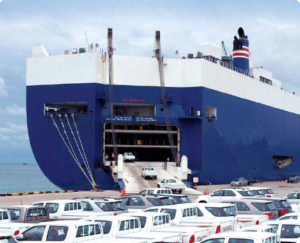 Japan's export growth slowed more than expected in July as shipments to the United States fell for a second straight month, with the automotive sector down sharply and global trade disputes casting doubts over foreign demand.
Ministry of Finance (MOF) data out on Thursday showed exports rose 3.9 percent year-on-year in July, far below a 6.3 percent increase expected by economists in a Reuters poll. The rise followed a 6.7 percent year-on-year gain in June.
Japan's exports to the United States fell 5.2 percent year-on-year in July, down for a second straight month, due to a 12.1 percent decline in car shipments.
"The drop in U.S.-bound car exports was in reaction to brisk sales seen there a year ago, boosted by the solid U.S. economy and declines in oil prices," said an MOF official in charge of compiling the data.
"We cannot say whether it was affected by trade tensions with the United States."
U.S. President, Donald Trump, has made the threat of heavy tariffs a core part of his agenda, with an eye on the U.S. auto sector's trade deficit with countries such as Germany and Japan, raising speculation about restrictions on U.S.-bound car exports.
Japanese carmakers have so far shown no sign of rushing to boost car shipments to the United States, which would happen if they anticipated higher tariffs were to be imposed on their products in coming months.
"While caution is heightening over U.S. trade policy, U.S. car sales are leveling off, causing Japan's car exports to the United States to level off as well," said Takeshi Minami, Chief Economist at Norinchukin Research Institute.
"If capital outflows from emerging economies accelerate on top of this, it would cause a marked slowdown in global economy, further weighing on Japan's exports."
Imports from the United States rose 11.0 percent in the year to July, led by crude oil, motors and liquefied petroleum gas.
As a result, Japan's trade surplus with the United States fell 22.1 percent year-on-year to ¥502.7 billion ($4.55 billion).
Exports to China, Japan's largest trading partner, rose 11.9 percent in July from a year ago.
Shipments to Asia, which account for more than half of Japan's overall exports, rose 8.0 percent, led by semiconductor production equipment and electronics parts for China and sales of steel to Thailand.
Overall imports rose 14.6 percent in the year to July, roughly matching economists' median estimate, resulting in a trade deficit of ¥231.2 billion, vastly exceeding the expected ¥50 billion.
Thursday's trade figures came after gross domestic product (GDP) data last week showed Japan's economy, the world's third largest, rebounded in the second quarter from a January-March dip.
Analysts say global economic growth is likely to support Japan's exports, but international trade conflicts are an ever-present risk to Japan's export-reliant economy.
The impact on the broader economy from higher U.S. tariffs on Japanese automotive exports would be significant, they say.
Japan's economy grew at an annualized rate of 1.9 percent in the second quarter on the back of household and business spending, recovering from an earlier contraction.
Agency Report