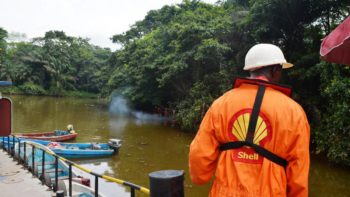 Royal Dutch Shell Nigerian subsidiary, (SPDC) and the Joint Task Force (JTF) in the Niger Delta has denied allegations of intimidating the leadership of Aghoro 1 community in Bayelsa to sign a disputed report on oil spillage.
According to reports, a disagreement in the areas impacted by an oil leak on the Trans Ramos Pipeline (TRP) within Shell's oilfield at Aghoro communities in Bayelsa has stalled the release of a Joint Investigation Visit (JIV) report of the oil spill.
Community leaders, who participated in the JIV to determine the cause of the spill reportedly refused to sign the report because of wide disparity between the impacted areas claimed by Shell and the community.
Chairman of the Community Development Committee of Aghoro 1, Victor Akamu, had alleged that Shell connived with the JTF to use force and intimidation, to compel the community to sign the report.
He told reporters on Monday in Yenagoa that JTF summoned the community's leadership to Yenagoa on Aug. 23 to force them to sign the JIV report but that the leaders refused to sign.
Akamu said the team from Aghoro were labelled pipeline vandals and were profiled into the database of the JTF.
He said, "We were taken to a room where detailed profiles of all of us were taken, including our fingerprints, biometric details and our photographs.
"We were temporarily held down for almost three hours profiling before we were eventually told to go.
"Is it part of JTF's job to force a community to sign a JIV report? Shell should stop using JTF to intimidate our community. For the past 20 years, there is no history of pipeline vandalism.
"This leak was due to a ruptured pipeline, due to corrosion yet they call us vandals, it is unacceptable."
Reacting to the allegation of intimidation, Shell Petroleum Development Company of Nigeria Limited, Media Relations Manage, Bamidele Odugbesan, however, denied use of force to compel the company's host communities to sign the JIV report.
He said, "Yes, there are issues with the JIV report. The representative of Aghoro 1 community did not agree with a portion of the JIV report but we have not used force.
"SPDC does not coerce parties to sign JIV reports."
Similarly, the Commander of the JTF, Rear Adm. Apochi Suleiman, dismissed the allegations of intimidation made by Aghoro community.
He said, "We conduct our duties in compliance with our rules of engagement. We invited the parties to mediate and encourage them to dialogue and use the established channels of resolving conflicts.
"I told them to resolve their differences on the negotiating table so that the operation is not disrupted. Our mandate is to safeguard oil facilities and we do not want the disagreement to degenerate further.
"We got reports that some persons were disrupting ongoing repairs of the ruptured pipelines and that was why some people were profiled.
"I was emphatic that we cannot tolerate anyone taking the law into his hands."