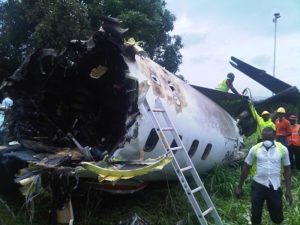 In other to accommodate latest changes in the global aviation industry, the Accident Investigation Bureau (AIB) is set to carry out a review of its existing aviation safety regulations in Nigeria.
The AIB Commissioner, Akin Olateru, who made this known in Lagos on Sunday noted that the review would enhance the bureau's performance especially in the area of incident and accident investigations.
He disclosed that the review exercise will take place before the end of the year.
Olateru said AIB was determined to ensure that its activities were in conformity with European standards and to continue to retain its position as the leader on the continent.
According to him, the bureau had already notified stakeholders about its intent to review its existing regulations.
The AIB chief emphasised that some of AIB's existing regulations had become outdated and needed changes which could not be accommodated with the current regulations in use.
He added that the International Civil Aviation Organisation (ICAO) recently reviewed its Annex 18 to accommodate new developments in the industry, stressing that in order to remain relevant, it would consistently look at its regulations.
Olateru said the bureau's core mandates were to investigate accident, recommend safety to prevent future occurrence and make aviation safer for business and air travellers, adding that the planned review was part of such processes.
He said in statement, "AIB came into existence in 2007 via the Civil Aviation Act 2006. The regulation was designed to guide how we do things.
"That regulation is outdated, it has to be reviewed. Regulation basically is to guide the stakeholders and to let everybody know how reporting system is done.
"If you look at Annex 18, it has just been reviewed by ICAO. We need to bring our regulations to speed to capture those new areas because you have to constantly review how you do things for you to stay relevant if not, you will become outdated.
"It is easier to review regulations than to review the Act. Act is forever. More so, the need to review our regulations was part of ICAO findings the last time it audited us."
According to him, ICAO observed that there were lots of gaps in the current regulations which has necessitated a review.
"As a responsible organisation, you have to constantly put your regulations, processes, systems and Standard Operating Procedure (SOP) to test to make sure there is still life and they are still going to work in accordance to your objectives.
"And if you find any gaps, you need to review and make it alive," he said.
AIB had in February 2016 carried out a similar exercise in Lagos, which improved its activities and duties especially on accident and incident investigations.