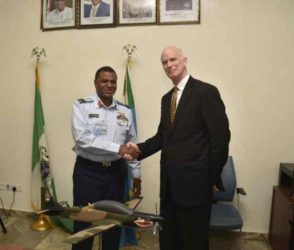 The Chief of Air Staff (CAS), Air Marshal Sadique Abubakar, has urged the manufacturers of the A-29 Super Tucano attack aircraft, Sierra Nevada Corporation (SNC), to expedite action on the delivery of the aircraft to the Nigerian Air Force (NAF).
Abubakar made the call while receiving a delegation from the company on a courtesy visit at Headquarters NAF, Abuja.
According to a statement signed by Air Commodore Ibikunle Daramola, Director of Public Relations and Information, Abubakar said the aircraft would enhance the operational capability of his men for the swift conclusion of the counterinsurgency operations in the Northeast.
The visiting delegation, which also included officials from the Office of Security Cooperation (OSC) of the United States (US) Embassy in Nigeria, was led by Senior Vice President of SNC, Taco Gilbert who assured the CAS of the company's determination to deliver quality aircraft capable of providing the needed impetus for NAF air operations.
Gilbert also expressed the commitment of the company to provide adequate training for NAF's air and ground crew to ensure effective and efficient operation of the aircraft.
In addition, the SNC Vice President noted that the company looked forward to continued collaboration with NAF towards building a new air capability to address the security challenges in the country.
While responding, Abubakar expressed his delight at the US Government's support for the fight against insurgency with the signing of the contract to sell the Super Tucano aircraft to Nigeria.