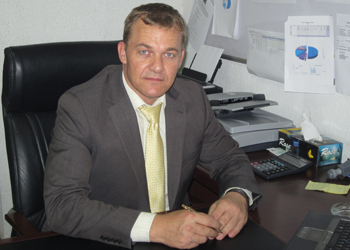 Operator, Terminal A of Tin Can Island Port, Josepdam Port Services Limited (JPS) has accused Honeywell Flour Mills of stalling its development plan.
Managing Director of JPS, Simon Travers said due to the presence of a conveyor belt belonging to Honeywell in the area concessioned to it since 2006, it has been unable to execute its port development plan.
Travers said this yesterday when members of the House Committee on Privatisation and Commercialisation visited the terminal to intervene in the face-off between the two companies.
"We have a concession agreement with the Nigerian Ports Authority (NPA) which clearly states what our development plan is and we cannot fulfill the developmental plan on the basis that there are structures within the terminal in our way," the Josepdam MD said.
But the Managing Director of Honeywell Flour Mills, Lanre Jaiyeola said the conveyor belt has been deactivated but has not been removed from Josepdam's terminal.
"JPS has no power to demand the removal of the conveyor belt since there is an agreement between the milling firm and the Nigerian Ports Authority," Jaiyeola said.
Chairman, House Committee on Privatisation and Commercialisation, Shadimu Mutiu who led the lawmakers to the terminal, said the visit of the committee was to broker peace and amicably resolves the rift, which has been in court for more than 10 years.
He said, "We are here in respect of the petition written by Honeywell against JPS and we are here to see how we can amicably solve the problem without necessarily resulting to legal issue. The conveyor belt in question belongs to Honeywell but it is situated inside Terminal A which belongs to JPS. Hopefully, we will resolve the issue out of court."
Deputy Director, Bureau of Public Enterprise (BPE) Abdulaziz Muazu Mafindi said the Bureau and the Nigerian Port Authority had made efforts in the past to resolve the issue but no sustainable agreement has been reached between JPS and Honeywell.
"BPE and NPA jointly handed over the operations and management of the terminal to JPS. It is our responsibility to hand over this terminal without any encumbrances but unfortunately this was not done as a result of the presence of Honeywell conveyor belt in their terminal.
"We expect that at the end of the concession agreement, we expect that there should be a remarkable infrastructure development in the terminal so that it would have added value when the terminal will be re concessioned but they have not been able to do that because of the presence of the conveyor belt.
"In the past, we have made so many effort to mediate and find a lasting solution to this problem but unfortunately here we are again trying to solve the same problem," he said.
According to him, the petition by Honeywell against Josepdam does not hold water.
Copyright 2016 Ships & Ports Ltd. Permission to use quotations from this article is granted subject to appropriate credit given to www.shipsandports.com.ng as the source.