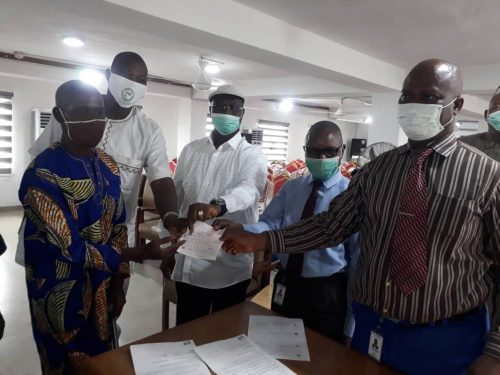 Josepdam Port Services (JPS), operators of Terminal A at the Tin Can Island Port on Wednesday presented a cheque of N15million to a dockworker involved in an industrial accident, leading to his permanent disability while working at the terminal.
According to the terminal operator, the amount covered the retirement/gratuity benefits and insurance cover for the injured dockworker in accordance with the Collective Bargaining Agreement it signed with the Maritime Workers Union of Nigeria (MWUN).
Speaking during the presentation of the cheque in Lagos, the President-General of MWUN, Comrade Adewale Adeyanju, said the union secured the payment on behalf of the dockworker, Mr. Sunday Osunsan, who sustained the injury 12 years ago.
Adeyanju, commended the management of JPS for taking up the dockworker's medical bill and salary since 2018.
"We want to thank the management of Josepdam for taking care of the dockworker for almost 12 years after the accident, paying his salary and medical bills. We will like to urge other terminals to take the welfare of dockworkers as priority. JPS has laid the foundation in the sense that the likes of Osunsan would have been thrown out of the port without being paid a dime. But we thank the terminal operator because this is a management that believes injury to one is injury to all.
"Dockworkers are international workers recognised by the International Labour Organization (ILO) and the International Maritime Organization (IMO), so they should not be seen or used as factory workers," he said.
While assuring of the union's commitment to workers' welfare, Adeyanju urged members to always support and cooperate with the union's leadership to seek their rights and benefit when the occasion demands.
"The era of disrupting of property of your company is no longer in the history of this union and that is when we can put our matter before the management and get result," he told the dockworkers who witnessed the presentation of the cheque.
Acting Human Resource Manager, JPS, Josaih Okpegbuo, who presented the cheque on behalf of the company, expressed appreciation to the leadership of MWUN for their cooperation and understanding while the issue of the retirement benefit was being resolved.
Receiving the cheque, Osunsan in an emotion-laden voice, thanked the union and the terminal operator for standing by him and keeping their promise.