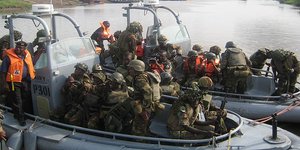 The Joint Military Task Force (JTF) in the Niger Delta, Operation Delta Safe, says its troops have arrested five suspects in connection with pipeline vandalism and stealing of oil wellhead devices in Bayelsa State.
Three of the suspects were said to have detonated dynamites to carry out their vandalism, while the other two were allegedly involved in stealing wellhead devices of a multinational oil company.
The Commander, OPDS, Rear Admiral Apochi Suleiman, who made this known during a press briefing on Tuesday at the headquarters of the outfit at Igbogene, Yenagoa, the state capital, said the arrest of the suspects were effected last Saturday.
Suleiman said, "The OPDS efforts in tackling the activities of pipeline vandals resulted in the arrest of suspected vandals that detonated dynamites which resulted in the breach of an international oil company's facility located at Tebidaba-Ogboinbiri-Brass pipeline on the outskirts of Imgbiba community of Southern Ijaw Local Government Area of Bayelsa State.
"Following the incident, troops, acting on a tip-off, spotted the suspects' hideout at a fishing camp along Isonogbene where three suspects namely, Ayebemi Dressman,  Inimotimi Abule and Epemege Frank, were arrested in connection with the vandalism."
Similarly, the commander said that troops deployed in Beneside in Ekeremor LGA of the state also apprehended two suspects.
Suleiman, who gave the names of the suspects as Messrs. Bibowa Anemi and  Ngoriduwa Gomogo, said the duo were responsible for sabotaging and stealing Wellhead 6 actuator devices, oil wellhead tools belonging to an unnamed international oil company.