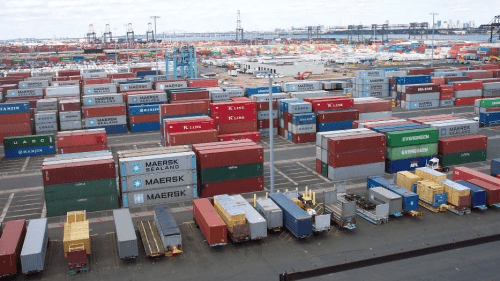 The Founding President of Nigerian Shipowners Association (NISA), Chief Isaac Jolapamo, the Chairman of the Nigerian Port Consultative Council (PCC), Otunba Kunle Folarin and other maritime industry stakeholders have expressed divergent views about the state of the industry since the return to democratic governance in 1999.
Nigeria returned to civil rule on May 29, 1999 after 16 years of military rule. However, the Federal Government last year declared June 12 as the country's Democracy Day. This was done to commemorate the democratic election of late Chief MKO Abiola on June 12, 1993, in what has been adjudged to be Nigeria's freest and fairest elections. The election was, however, annulled by the military dictator, General Ibrahim Babangida.
In his assessment, Chief Jolapamo said while Nigeria's maritime sector has made more progress than any other sub-Sahara African country's, "we have not derived much benefits from what we are making because the government does not understand the politics of shipping development".
The foremost shipowner said the sector would have performed much better but for some "people in position of authority" whose "personal interest must have been overriding the interest of the country itself".
Also speaking, PCC Chairman Otunba Kunle Folarin said "some important areas" of the sector have remained "work in progress".
He said, "The first one was the concessioning of the port in 2006 and that was progress because that year lifted the maritime operations in the port from a public sector monopoly to a partial private sector operation and that brought some improvement in port productivity. Although, there are some issues still on that but that was progress on the side of government.
"Secondly, the laws enacted to enhance the transition of indigenous companies in the maritime sector; for example, the Cabotage Act of 2003, NIMASA Act of 2007, Cabotage Financing Fund (CFF) of the same era; those are significant operational changes within the dynamics of the sector between 1999 and 2019.
"Also, within the achievement in 1999 till date, there have being the issue of seafarers development programme, which has involved 2000 cadets in trainings outside Nigeria. Well, it will take time for the deals to be realised but at least the capacity of the seafarers has been built and to enable them take part in international trade."
For Lagos Business School (LBS) don, Dr. Frank Ojadi, the maritime industry, "which is supposed to be a very huge industry" has underperformed.
"The truth of the matter is that if one looks at the Nigerian maritime industry before democracy, it has not in any significant way created opportunities for job creation because we still do not have a settled shipping yard which is a hub for job creation like we have in South Africa, Brazil, Indonesia and so on. At best, what we have is a skeletal yard that maintains boats, to put it mildly."
He decried a situation where ocean-going vessels that visit Nigeria leave without even washing their vessels here "because we do not have the facilities and capabilities".
"Secondly, the Cabotage Law that was designed to support and help the growth of the maritime industry has not functioned well. If there is anything done, it is little and what you find is that a lot of people apply and get a waiver and then bring in foreign vessel. Thirdly, the Maritime Academy of Nigeria, Oron that is supposed to train is nothing to write home about because a good number of them do not have access to vessel that are mandatorily required for them to complete their training by going into the ocean and having hands-on experience so they can be engaged by companies, so they are lazing all around.
"There is a disconnect as to how to make the vessel available and who is willing to make the vessel available. Therefore, you find out that the only activity area in maritime industry is the area that deals with the oil and gas where certain specialized vessels are required for anchorage, oil drilling and so on and that is where you have a lot of vessels being registered to do activities. So, vessels making industry is really what generates job in the maritime sector and we don't have any. We are only saddled with one, which is clearing and forwarding and this is the same as oil and gas," Ojadi added.
Also speaking, maritime lawyer, Barr. Osuola Nwagbara, however, argued that the country's maritime sector has made meaningful progress.
He said, "The International Maritime Organisation (IMO) has been commending NIMASA on the measures the agency has put in place to combat the COVID-19 pandemic; the Nigerian Ports Authority (NPA) has rebounded in leaps and bounds, following the concessioning of the port. What we are looking forward to is better management of the paradigm in shift in port management because it is the challenge right now."
He said Nigeria "needs to develop as a country and look forward to a greater future for the younger generations and generations yet unborn".
"We need to begin to plan now for the next 100 hundred years to have a blueprint to develop Nigeria as a great maritime nation. Especially, we need to develop Apapa environs as a port smart city where everything is efficient, where people can live and work, helicopters can land and take-off and there is need for us to have more ports," he added.