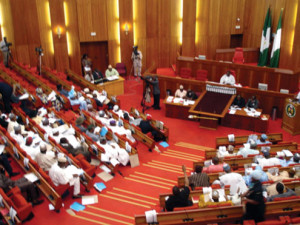 The Senate on Monday expressed worry over alleged refusal by Joint Venture Companies (JVCs) to repatriate crude oil proceeds worth over $850 billion to the country.
Senate President, Bukola Saraki, who expressed concern over the development, said the amount accumulated between 1996 and 2014.
Speaking while inaugurating an investigative hearing on "Pre-Shipment Inspection of Export Activities in Nigerian," Saraki said the action of the JVCs was in total contravention of the Pre-shipment Inspection of Export Act and Article 26 of Export Policy Guidelines and procedures for crude oil, gas and non-oil goods.
Represented by the Senate Leader, Ahmed Lawan, Saraki said the Senate was determined to use all available constitutional means to plug the leakages in the system.
He noted that if the country was good for doing business, it simply meant that the laws of the country must also be respected.
The Senate president insisted that whoever was found culpable will be brought to book no matter how highly placed "because the monies involved is enough to tackle the infrastructural challenges all over Nigeria."
He added: "There is a frightening consensus that if we do not kill corruption as a country, corruption will kill Nigeria. After so many years of circumventing the process, the 8th Senate is in a hurry to move the country forward, through legislative intervention in order to reverse the abject penury that has become the norm for the majority.
"As leaders across board, we must be sacrificial in our various duty posts and build a great country for the unborn generation by ensuring we fully comply with the laws of the land. If we keep manipulating the process while carrying out activities of government, it will be very difficult to take Nigeria out of the woods."