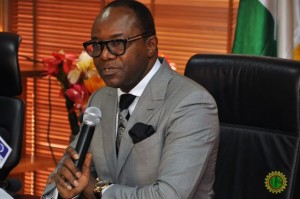 Minister of State for Petroleum, Ibe Kachikwu, has said he will walk away if Nigeria is not self-sufficient in petrol production by the year 2019.
Describing himself as a man of his words, Kachikwu said he had kept all of the promises he made since he became a public official in Nigeria.
The minister, who said he sets targets and meets them, vowed to resign if he does not deliver on this particular promise of Nigeria becoming a net exporter of petroleum products by 2019.
While fielding questions from Stephen Sackur on BBC Hardtalk, Kachikwu said, "I have delivered on all that I have promised when I came into office. First, I took Nigerian National Petroleum Corporation (NNPC) and made it a profit-making organisation. This is the first time in history, I reshaped the organisation.
"I removed cash call deficits of over $6 billion and renegotiated it. Everything that I have promised since coming into office, I have delivered. I will deliver on the refineries and I'm committed to it.
"I will also deliver a future for oil that makes sense for Nigeria. Bear in mind one has been there for one and a half years, the president has been there for two years; I can't pretend that we're going to solve in one day all the problems that happened in Nigeria in the past."
Asked again when Nigeria will be self-sufficient in crude refining, he said, "Our target is 2019…don't worry, I put the date, I'll work it."
Sackur interrupted, saying, "And if you don't achieve it, you'll walk?" and Kachikwu replied saying, "Yes, of course, that is the reason why you are in government." 
Copyright Ships & Ports Ltd. Permission to use quotations from this article is granted subject to appropriate credit given to www.shipsandports.com.ng as the source.