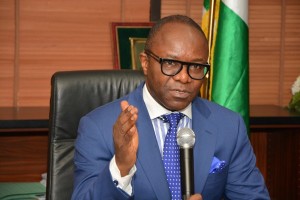 Nigeria's Minister of State for Petroleum, Ibe Kachikwu, says by 2017, Nigeria should have found the formula for peace in the Niger Delta region of the country.
Kachikwu, who is currently at the Liquefied Natural Gas (LNG) Producer-Consumer conference in Tokyo, Japan, said Nigeria was at 2.1 million barrels of oil production per day, before the latest strike by the Niger Delta Avengers (NDA).
Speaking to Bloomberg on the "turmoil" in the region, Kachikwu said, "Well, I wont call it turmoil anymore, I would call it a bit of disruption".
"We've passed the turmoil stage, we have moved from 1.4 million barrels a day to 1.9, we were at 2.1 before we had the last incident," he said
"It is work in progress, we are putting every energy we can. President Muhammadu Buhari is very focused on trying to find solutions to these problems, we are working hard, we are seeing solutions come up, we are seeing acceptance to what we are doing.
"But again like every other town where you have disruptions and conflict, it takes a while to get to a stage where everybody is comfortable.
"I'm positive that we would move up from where we are, hoping we can end up the year, far in excess of 2 million barrels, and closer to the 2.2 million that we envisage we should be in.
"I am also confident that in 2017, we would have less disruptions to our oil production, because then we should have found a formula to seek peace in the Niger Delta."
Militancy in the Niger Delta has severely affected the country's plans of producing 2.2 million barrels of oil per day, throughout 2016.
The decline in oil prices, and the country's production, has also had negative effects on the country's 2016 budget.
Kachikwu said he is very optimistic that the Organisation of Petroleum Exporting Countries (OPEC) deal will become a reality and push oil prices to $50 per barrel, and above.
The Minister, who presided over OPEC's 168th ordinary meeting in Vienna, also stated that a failure to reach a deal will crunch prices below $45 a barrel.
Copyright Ships & Ports Ltd. Permission to use quotations from this article is granted subject to appropriate credit given to www.shipsandports.com.ng as the source.