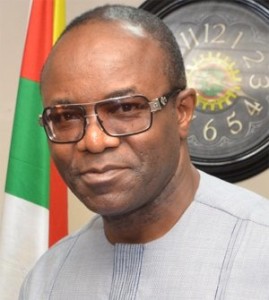 A $50 million modular refinery Ikwe-Onna Refinery with a 5000 barrels per day capacity has been inaugurated in Ikwe village Onnna Local Government area of Akwa Ibom State.
Inaugurating the refinery, the minister of state for petroleum, Ibe Kachukwu who was assisted by the Akwa Ibom State governor, Udom Emmanuel commended the effort of company saying the federal government was ever ready to support such gesture.
He said such initiative following due process will always be encouraged by the federal government to ensure that the challenges of crude oil refining become a thing of the past.
On his part the Minister of Minister of Science and Technology, Dr Ogbonaya Onu said the federal government will"want to encourage local content in the petroleum sector with a view to achieving regular supply products.
The federal government he noted, will assist any entrepreneur, innovation and technology from the private sector in its quest to achieving sustainability in fuel supply but will not support illegal production of petroleum products.
"There are always policies in place for the establishment of refineries and except you have all these policies in place and pass through the due process before you start anything otherwise the federal government will be very angry with whatever you are doing illegal refinery.
On his part,the Managing Director of Ikwe- ONNA Refinery, Daminago Ogaji stated that "Ikwe Onna Refinery is one of the modular refineries which the federal government is looking at to boost local production.
He said for now, "the company will start with a capacity of 5,000 barrels per day to be beefed up to 20,000 bpd in midterm and will hit 100,000 bpd in future.
"The model is different as we bring in the community as co-partners of what we are doing here. They share 10 percent of what we have. So we work symbiotically. If you talk of militancy how do you address it without them being part of you and that is the way forward, getting the local community as part owners and we work together as a family," he said.
On training and taking the host community along, he said, "We intend to also train the local boys because you will find out that there is going to be primarily local content developed company with everything more than 80 percent will be done locally".
He pointed out that, "Tank farms, pipelines and others will be done locally. The only part that comes from outside is less than 30 of the cost. So we only do that for the first model. We will study it and try to develop on that and see how we can build things locally.
On cost implication he said, "We are looking at something higher than $50million. We are expecting before the middle of 2018 we should be okay starting operations".
Chairman of the company, Bassey Rex, said "Ikwe-Onna Refinery "is prepared with the intention of supporting the state government industrialization plan "
A consultant to the company, Nseyen Ebong, who is a former Rector, Maritime Academy of Nigeria Oron commended the management of the refinery.
"It is heart warming to see Akwa Ibom as the harbinger of such a laudable project," he said.
He said with the refinery becoming operational, the era of fuel scarcity in the Niger Delta will be a thing of the past.
Copyright Ships & Ports Ltd. Permission to use quotations from this article is granted subject to appropriate credit given to www.shipsandports.com.ng as the source.