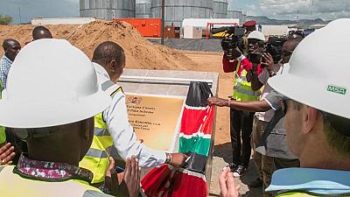 Kenya on Sunday launched a pilot scheme to export crude oil via Mombasa as part of efforts to capitalise on the country's oil reserves.
The East African country discovered commercial oil reserves in its Lokichar basin in 2012 and a 800-km (500-mile) pipeline is due to be built before production starts up in 2021/22.
The national government and the regional administration of the north-western Turkana region agreed last month on revenue sharing that will come into force when production reaches full capacity by 2022.
That agreement paved the way for the passage of a law on petroleum production, which will enable Tullow Oil – which operates the Kenyan fields – to start shipping oil that has been held in storage tanks for a year.
"The benefits of the project will be shared and no one will be left behind," Deputy President, William Ruto, said at the launch of the export initiative under which 2,000 barrels will be transported to Mombasa by road for shipment each day.
Tullow has hired Wood Group to design the pipeline needed to bring crude from Lokichar's onshore fields to a port in Lamu along the Indian Ocean coast.
The cost of the pipeline is estimated at $1.1 billion, with a further $2.9 billion needed for upstream operations, the company says.
Tullow has said the Amosing and Ngamia fields in the basin have estimated contingent resources of about 560 million barrels, with plateau production potentially reaching 100,000 barrels per day.
Agency Report