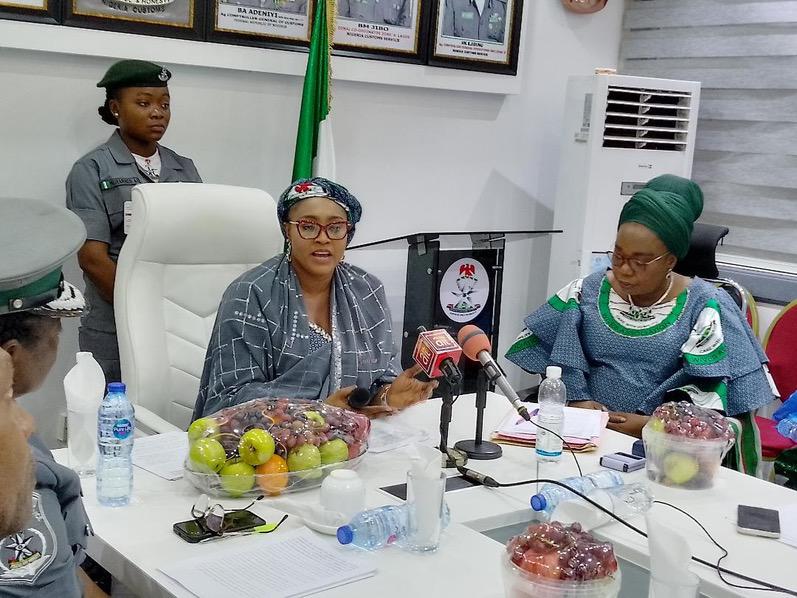 The National President, Customs Officers Wives Association (COWA), Mrs. Kikelomo Adeniyi has promised to empower over 1,200 members of the association on skills acquisition and various training programmes.
Mrs. Adeniyi, who is the wife of the acting Comptroller-General of Customs, Adewale Adeniyi, stated this on Wednesday when she led other COWA executives and members on a courtesy visit of the to the Federal Operations Unit (FOU) Zone A, Ikeja, Lagos and meeting with the Controllers of FOU Zone A, Murtala Muhammed International Airport and Murtala Muhammed Airport Commands in Lagos.
She said COWA is a non-profit charitable organisation dedicated to supporting the spouses and families of Customs officers.
"Our visit today is to acquaint you with the activities of COWA, which is a non-profit organisation that was set up on August 13, 2009 to promote the welfare of the families of Customs officers, and to foster friendship bonds, unity and understanding among the wives of officers.
"We are dedicated to supporting the spouses and families of Customs officers. We work to ensure the attainment of this objective through various outreach programmes such as human capacity trainings, empowerment schemes as well as regular enlightenment of members," she said.
According to her, COWA also extends support to the widows and children of Customs officers who lost their lives in the line of duty as well as orphanages across the country.
"We have identified specific areas of need that we intend to focus our attention on in the short and medium terms. These areas include; training our members on family's health living, skill acquisition, business training and empowerment programmes, embarking on campaign against drug abuse and promotion of basic education.
"Our trainings aim to enable COWA members effectively set up and manage businesses without compromising their duties on the home front. By estimation, 1,200 COWA members will benefit from these trainings between now and the end of 2024. Our planned support for the wives and children of fallen officers is to enable surviving spouses cater to the needs of their children," she explained.
To achieve this, she said that COWA intends to establish contacts with as many of such families as possible, especially the ones that were recently bereaved, and extend helping hands to them.
"Our focus in this regard is to provide educational support and scholarships awards to the children and provide vocational training and empowerment to the widows.
"Considering strategic location of lkeja because of the high number of officers living around, COWA has seen the need to have Primary and Secondary school to cater for the educational needs of the officer's children domiciled within the city.
"This project would provide good, qualitative and affordable education to our children, to reduce the financial burden on Customs officers who pay exorbitant fees to educate their children outside and to also create empowerment opportunities for our members who are in the teaching profession.
"Considering how supportive you have been to us, we wholeheartedly appreciate your kindness and promise not to disappoint you in any way. It is on this note that we are seeking for further support to actualise this dream by way of contributing our quota to the social wellbeing of members and to nation building," she said.
The COWA President encouraged members of the association to give full support to their husbands.
"Please don't put additional stress on your husbands. Make the home a refuge for them where they can come back and rest after a hard day's work," she said.
Copyright Ships & Ports Ltd. Permission to use quotations from this article is granted subject to appropriate credit given to www.shipsandports.com.ng as the source.