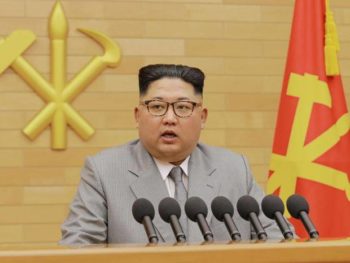 The Democratic People's Republic of Korea (DPRK) Ambassador to Nigeria, Jon Tong Chol, has promised to build on the gains of the bilateral relations with Nigeria to achieve meaningful growth.
Chol made the pledge at an event to mark the 106th birthday anniversary of the late Korean leader, Kim Il Sung, organised by the Embassy in Abuja.
He described the Sung as one who devoted his life to preach on the importance of independence, self-reliance and self-defence in Korea and in the world.
According to the envoy, his revolutionary cause has succeeded and even brought about the external relationship with countries like Nigeria they enjoy today and economic ties between both countries.
Chol said, "The traditional relationship and cooperation between the Federal Republic of Nigeria and DPRK have further consolidated and developed.
"We sincerely wish the Nigerian people greater successes in maintaining the peace and security."
He wished the government and people of Nigeria success in the fights against corruption and terrorism.
Kim Il Sung, born April 15, 1912, was the leader of North Korea from its establishment in 1948 until his death on July 8, 1994.