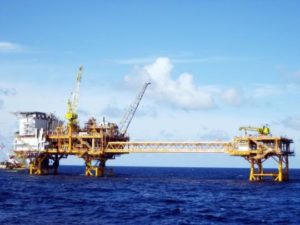 Korea's "Big 3" shipbuilders are suffering from a curse of low oil prices. They are suffering a double whammy as offshore plant orders have fallen due to weak oil prices and facility deliveries are being delayed, as if to add oil to the fire.
According to the shipbuilding industry on November 30, Hyundai Heavy Industries announced on October 28 that it would postpone the delivery of one floating production, storage and offloading (FPSO) unit that US oil company Chevron ordered. The delivery date is not decided yet.
Hyundai Heavy Industries received an order for an FPSO unit for 2,147 billion won in April 2013 and planned to deliver the unit on November 30 this year. However, after signing the contract, Hyundai Heavy Industries has only completed the initial design of the FPSO unit. The progress was hindered by international oil prices that have remained at a low level of US$ 20 to US$ 40 per barrel over the past two years. Offshore plant facilities, which extract and store oil under the sea, are cost competitive only when international oil prices reach US$ 50 to US$ 60.
It is fortunate that the FPSO contract is based on a progressive system where money is paid in accordance with progress rates. This is because the postponement of a delivery hardly gives rise to a financial burden. Hyundai Heavy Industries has 13 remaining offshore plant orders and all remaining vessel contracts were signed in this way.
Daewoo Shipbuilding & Marine Engineering (DSME) and Samsung Heavy Industries also received notices of delivery delays. In particular, the two companies' "heavy-tailed" contracts on drilling ships account for more than the half of all of their offshore plant orders. Heavy-tailed contracts oblige shipbuilders to receive more than the half of the balance at the time of ship deliveries. This means that DSME and Samsung Heavy Industries may be more vulnerable to a liquidity crisis than Hyundai Heavy Industries.
DSME was recently asked to postpone the delivery of two US$ 1.2 billion drill rigs at Atwood Oceanic, a US drilling company. The orderer requested that the delivery should be delayed once again after being delayed to September 2017 and then to June 2018. DSME was scheduled to receive 470 billion won in remainder by early this year. On top of that, DSME has not received US$ 990 million for a drillship from Angola's state-run oil company, Sonangol in time. Orders to build nine drillships are among DSME's current 13 remaining offshore plant orders.
Samsung Heavy Industries also delayed the delivery of FLNG 1 whose order was received from Petronas of Malaysia in 2014 from January 2018 to July 2020. Its contract amount swelled from US$ 1.47 billion to US$ 1.6 billion. As the speed of the process is adjusted, its inclusion in sales is delayed that much. The contract on this facility honors a progressive manner so has no immediate big impact on the company's profitability. However, among Samsung Heavy's 19 offshore plant orders, drilling facility orders number ten, making the company never feel secure about the drillship business in the future.
Copyright Ships & Ports Ltd. Permission to use quotations from this article is granted subject to appropriate credit given to www.shipsandports.com.ng as the source.