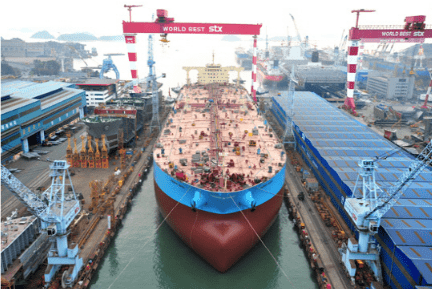 The Korean shipbuilding industry is being hit hard by the new coronavirus. Korea took up about 70 percent of the global shipbuilding orders in the first two months of the year, but its share plunged to a mere 4 percent in March. While Korea was faltering, China took up 90 percent of the order volume thanks to contracts awarded by Chinese clients.
World ship orders reached 720,000 CGTs and 21 vessels in March, said Clarkson Research, an analysis agency of the shipbuilding and shipping market in the United Kingdom, on March 7. China took first place with orders of 650,000 CGTs (17 ships and 90 percent), followed by Korea's 30,000 CGTs (one vessel, 4 percent) and Japan's 29,000 CGT (two vessels, 4 percent). However, Korea's order book did not include an order for an LPG ship placed on Hyundai Heavy Industries and an order for a VLCC to Daewoo Shipbuilding & Marine Engineering in March.
The March landscape is completely different from that of February. In February, Korea's order receipts reached 200,000 CGTs (eight ships), accounting for 67 percent of the global total. In the same month, China took one order for a 680-TEU container ship (8,000 CGTs). As a result, Korea regained its position as the world's No. 1 in terms of shipbuilding orders. China placed first in January with 510,000 CGTs (22 ships), but it performed poorly in February as shipbuilders could not operate their shipyards due to COVID-19.
China's orders improved significantly in March thanks to an increase in orders from Chinese clients. Orders of 560,000 CGTs (88 percent) to China were tankers and container ships from them.
The total orders by country in the first quarter of in 2020 were 1.15 million CGT for China (55 vessels, 65 percent), 360,000 CGT for Korea (13 vessels, 16 percent), and 180,000 CGT for Japan (12 vessels, 8 percent).
Orders to Korea fell sharply due to the absence of orders for LNG ships, its flagship shipbuilding model. Those in the Korean shipbuilding industry believe that rankings among countries are not significant as absolute value in orders is not large.
Source: Business Korea  
Copyright Ships & Ports Ltd. Permission to use quotations from this article is granted subject to appropriate credit given to www.shipsandports.com.ng as the source.