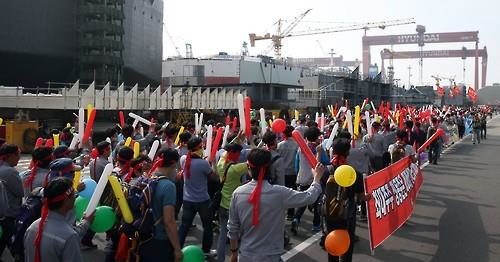 Labour unions are planning to stage a strike to potentially block the process of Hyundai Heavy Industries (HHI) acquiring and merging with its smaller rival Daewoo Shipbuilding & Marine Engineering (DSME), reports said.
The merger of HHI and DSME has raised concerns over loss of jobs and the powerful Korean unions are demanding job security for yard workers, as well as representation at the merger deal table.
HHI union said on Monday that if the HHI management pushes ahead with the acquisition of DSME without guaranteeing total employment, the labour-management relationship will "end up collapsing".
The HHI union said, "It is obvious that we will have to restructure our manpower, starting with design, sales, and research sectors. So far, more than KRW13trn of public funds have been invested in DSME, and its debt ratio is 216%. If the recovery of the shipbuilding industry is slow or not expected, the acquisition of DSME will lead to a joint failure and they will surely pass the responsibility to the workers again."
DSME union announced it is ready to go on a strike between 18-19 February.
The local media reported that leaders of the HHI and DSME unions have met and agreed to form a united front against the merger.
At the end of January, HHI signed a preliminary agreement to take over DSME.
Korea Development Bank (KDB) said the merger is a crucial step toward eliminating inefficiency caused by overlapping investment under the current 'Big Three' shipbuilder structure, which includes Samsung Heavy Industries.