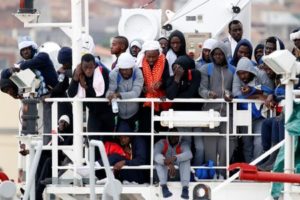 Billionaire philanthropist Mo Ibrahim's foundation said on Friday that lack of jobs and disillusion with political leaders may form a "toxic brew" driving more young Africans to migrate or join violent extremist groups.
According to a report by the foundation, Africa's booming young population could destabilise countries across the continent and challenge economic growth if youth are not provided with education and job opportunities.
The foundation said that the continent's youth population will almost double to 452 million by 2050, from 230 million in 2015, and one in two Africans will be under the age of 25.
Richard Murray, acting head of research at the foundation, said: "many young people could be drawn towards escalating militant violence in Africa and rising migration to Europe via the Mediterranean.
"The most striking aspect of this research is the importance of the choice facing African youth on a continent where terrorist attacks have grown by 1,000 per cent over the (past) decade.
"Engaging the youth will determine the future of the more than 2.4 billion people who will live on the continent in 2050".
Observers from investment bankers to management consultants say Africa will reap a "demographic dividend" in the future as its bulging youth population drives innovation and consumer markets, as happened in Asia in decades past.
Yet while Africa's commodity boom over the past decade has seen the continent's real gross domestic product grow at an annual average of 4.5 per cent, few jobs have been created and youth unemployment levels have remained high, the report said.
According to the foundation, frustration is also growing among young people when it comes to politics, with youth voter turnout declining and scepticism about politicians growing despite an increase in free and fair elections across Africa.
"Africa stands at a tipping point," Mo Ibrahim, whose foundation publishes an index on African governance and rewards outstanding African leaders, said in a statement.
"The decisions taken now will decide whether our continent continues to rise or falls back," he said ahead of the Ibrahim Forum on April 8 in Morocco on issues facing Africa.
"More than ever, wise leadership and sound governance are key."