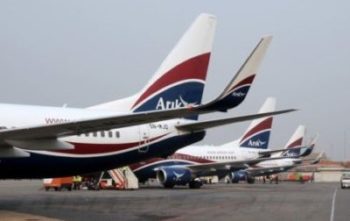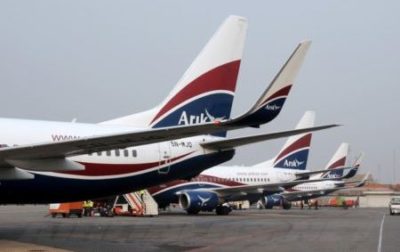 The new management of Arik Air has reiterated commitment to high safety standards as it continues with the task of re-positioning the airline.
Arik air media consultant, Simon Tumba, said on Friday in a statement that the new management of the airline is more safety conscious.
"Irrespective of the enemies of the government and their resolve to transform the career, the management of Arik (under receivership) is not distracted.
"Arik will continue to maintain the highest operational and safety standards, which the airline has been known for since its inception in 2006," he said.
The airline was on Feb. 9 taken over by the Asset Management Corporation of Nigeria (AMCON) due to its huge debt profile.
AMCON had thereafter appointed Capt. Roy Ilegbodu, a veteran aviation expert, to manage the airline under the receivership of Oluseye Opasanya (SAN).
Tumba said the takeover of the airline by AMCON had not in any way eroded the confidence of the flying public and all other business partners of the largest carrier in Nigeria.
According to him, the new management of the airline is more safety conscious than the former management which neglected critical details that are needed to run a sensitive business like an airline.
"Ilegbodu has worked at the highest level as a regulator when he served the Nigerian Civil Aviation Authority (NCAA).
"He has successfully managed at least two major airlines in the country, which is why he is well regarded and respected in the airline industry.
"It would be recalled that when the new Arik management team took over the affairs of Arik in February, they met a depleted fleet and 18 unserviceable aircraft.
"There was no single spare part in the store, which is highly unethical and dangerous in aviation business.
"It was, therefore, only a matter of time for the few serviceable aircraft to be grounded," Tumba said.
He disclosed that the maintenance/engineering department of the airline was now alive to its responsibility of ensuring that Arik Air's fleets are maintained according to airworthiness standards at all times.
According to him, the new management of the airline has ordered more aircraft spares, which have started arriving and in the coming days more aircraft will become serviceable and ready to join the fleet.