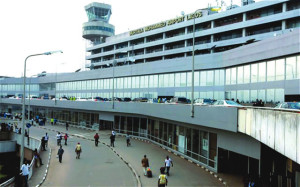 The National Bureau of Statistics (NBS), has disclosed that Lagos, Abuja and Edo are the top three destinations within Nigeria with the highest airfares paid by air passengers in May 2018.
According to the Transport Fare Watch report for May 2018 released by the bureau, the states with the cheapest airfares in May were Katsina, Osun and Nasarawa.
The report covers the following categories: bus journey within the city per drop constant route; bus journey intercity, state route, charge per person; airfare charge for a specified routes single journey; journey by motorcycle (Okada) per drop; and waterway passenger transport.
An analysis of the report showed that average fare paid by air passengers for specified routes, single journey, decreased by 0.40 per cent month-on-month and increased by 1.04 per cent year-on-year to N31,659 in May 2018 from N31,833 in April 2018.
The report showed that Lagos charged N40,500 averagely for single air travel, Edo charged N39,950 and Abuja charged N39,592.
States with lowest airfares were Katsina (N24,300), Osun (N24,950), and Nasarawa (N25,700).