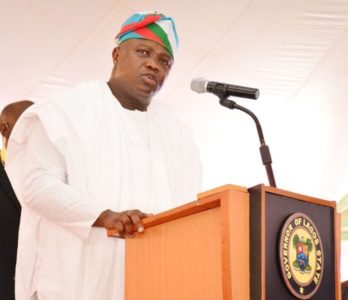 Lagos State Governor, Akinwunmi Ambode has approved the extension of the ongoing reconstruction of the International Airport Road to Ladipo International Market axis along Oshodi Apapa Expressway.
He also disclosed plans to construct a pedestrian bridge at Toyota Bus Stop in response to the yearnings of traders and residents of the area, with the contractor expected to begin work on the bridge next week.
The Governor, who made this known during an extensive inspection of ongoing projects across the State on Monday, said the extension was to complement the Airport Road reconstruction in line with the regeneration of the entire Oshodi axis.
"There is no point doing the Airport Road if we don't extend that contract to where I am standing here and so I want to do it from Oshodi to Guardian Newspapers axis; I want to rehabilitate the road and turn it to a modern road. The only way I can do it also is if you don't do any trading on the road.
"I promise you I will also do a Pedestrian Bridge at Toyota Bus Stop. So, the contractor that is doing the Airport Road will commence work on the Pedestrian Bridge and this road next week if you allow me. That is why I have come here personally; I was here yesterday. I don't want to inconvenience you but I have come to appeal to you; just be patient with us; we will bring growth and development to this place,"Ambode said.
The Governor, who also inspected ongoing construction of roads around Ladipo International Auto Spare Parts Market, called on traders to leave the road to enable the contractor complete the projects.
Accompanied by key members of his cabinet, Ambode expressed concern that the presence of traders displaying their wares on the road was hampering the construction work and delaying the completion on schedule.