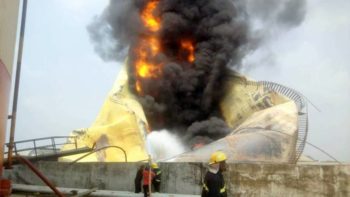 The Director, Lagos State Fire Service, Rasak Fadipe, said on Wednesday that there was no casualty in the fire incident that gutted a tank farm at Ijegun Ibasa in the Ojo Local Government Area of Lagos State. 
Fadipe said the service received a distress call at11:35 a.m. that a tank farm belonging to Stallionaire Nigeria Ltd was on fire.
"I immediately alerted the Ojo fire station to rush to the scene but when I was told that it was tank farm, I signaled all other stations around.
"When we got there and discovered that the fire was raging seriously, I had to call on our Head Office for more fire engines.
"We discovered that apart from the Premium Motor Spirit tank which was on fire, there were four other tanks surrounding it.
"With the help of other emergency agencies like the Lagos State Emergency Management Agency (LASEMA), the National Emergency Management Agency (NEMA), with support from the Nigerian Navy and the Police, the fire was put under control, without any casualty, at about 3:30 p.m," he said. 
A representative of NEMA, Olayinka Ajaba, said the fire incident was caused by a trans-loading problem.
According to Ajaba, workers were trans-loading petrol manually into a tanker when the fire started and it gutted the tanker.