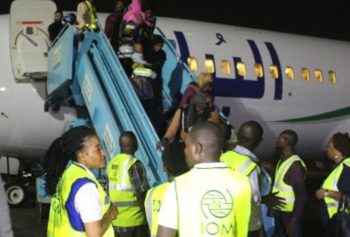 Another batch of 171 Nigerian migrants repatriated from Libya late Tuesday arrived the Murtala Muhammed International Airport (MMIA), in Lagos.
The migrants arrived aboard a Buraq Airline flight with registration number 5A-DMG about 8:25 p.m via the cargo terminal of MMIA.
They were handed over to the National Emergency Management Agency (NEMA), in the presence of other relevant government agencies.
The repatriated Nigerians comprised 70 female adults including nine pregnant women, 90 male adults, three children and eight infants.
The South-West Zonal Coordinator of NEMA, Yakubu Suleiman, who received the returnees advised parents and guardians to desist from encouraging their children/wards to embark on such perilous journeys.
According to him, it is only by dint of goodluck and God's mercies that those embarking on the journey usually return.
Suleiman expressed disappointment that some parents support their children to go outside the country through illegal routes by selling their properties to raise funds for the journey.
He said, "We have been inundated with parents calling that they have lost contact with their children while many would continue to raise money from home and send to children who would have been held captive and must be settled before their children would be set free."
Suleiman called on the returnees to be anti-trafficking champions to disabuse the minds of those still trying to embark on such journey.
He added, "You have seen it all, experience is the best teacher. Today, all of you are saying you will never encourage any of your family members to travel outside wasting huge resources through illegal routes despite various risks and dangers you went through.
"I am begging you to also carry this message to the people you come across in life and share your experiences to discourage young people wasting their energies and productive life in seeking wealth."
One of the returnees, Vivian Loveth (not real name), 22, said though she was going to France, she was held captive in Libya and her parents whom she said are peasant farmers had to raise money to free her.