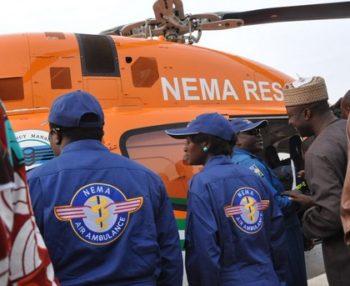 The National Emergency Management Agency (NEMA) said it has deployed a rescue helicopter, three Mobile Intensive Care Unit (MICU) Ambulances and three Rapid Intervention Vehicles to Kaduna State.
NEMA's Head of Media and Public Relations, Sani Datti said in a statement on Friday in Abuja that the equipment were deployed to provide support for emergency operations in the State, following the closure of Nnamdi Azikiwe International Airport, Abuja and movement of flight operations to the Kaduna International Airport within the week.
He said the helicopter is to be used for medical patrol while the three MICU ambulances with the Rapid Intervention Vehicles are stationed along Jere and Katari Towns, Kaduna-Abuja road and Kaduna International Airport.
The MICU ambulances are used to administer first aid treatment and stabilization for trauma victims on their way to the hospital as it serves as a mobile hospital with the capacity to carry one critical and one less critical victim.
On the other hand, the Rapid Intervention Vehicles are used for Search and Rescue, fight fire rapidly and extrication of victims trapped in accident vehicles or collapsed structures.
Datti urged Nigerians to reach NEMA through its North West Zonal office at No 15 Wurno Road Unguwan Sarki, Kaduna in case of emergency.