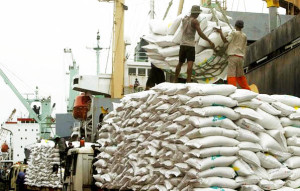 The Special Adviser on Food Security to Gov. Akinwunmi Ambode of Lagos State, Sanni Okanlawon, has urged the Federal Government to apply caution concerning plans to close the nation's borders against rice importation.
The Minister of Agriculture and Rural Development, Chief Audu Ogbeh, had on June 19, ordered the closure of the land borders to guide against smuggling of rice.
Okanlawon who made this known to journalists in Lagos on Friday noted that though the closure would boost the productivity of local farmers, the ripple effects on certain aspects of the rice value-chain should also be considered.
He said that the milling capacity of the country was at its lowest level and might not be able to meet the production and consumption deficit of the commodity.
Okanlawon said, "The proposed border closure by the Federal Ministry of Agriculture and Rural Development is a laudable one that will boost local production of rice, which is the cascade effect.
"However, let me caution here that before such a step is taken, there must be improved milling capacities across the country.
"Although the smuggling of rice is not helping matters, our rice-milling capacity as a nation is inadequate. I understand the country produces 500 million metric tons of rice paddy.
"How much of that production do we have the capacity to mill; how many mills do we have in Nigeria? These are questions we should consider."
The aide said that the Lagos State Government was in the process of establishing a rice mill in Imota, near Epe that would be able to produce 32,000 metric tons per hour when it starts operations.
According to him, after such high-milling sites have been established across the country, then the border closure to stop rice smuggling will be more effective.