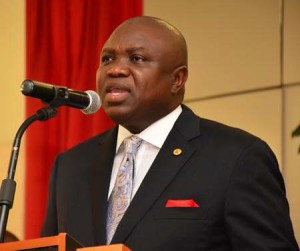 The Lagos state government yesterday flagged off the reconstruction of the Oshodi-International Airport road, with a pledge to complete the project within fifteen months.
The state governor, Akinwunmi Ambode, last month at the quarterly town hall meeting held in Badore area of Ajah, announced the reconstruction of the road would commence in September.
The project includes the reconstruction and expansion of the existing carriage to three-lane Expressway on both directions, construction of two-lane Service Road in both directions, construction of ramp bridge to provide a U-turn from Ajao Estate to Airport, construction of a flyover at NAHCO/Toll Gate and drainage works.
Others include the removal of existing pedestrian bridge at Ajao Estate and construction of pedestrian bridges at Ajao Estate and NAHCO/Hajj Camp, construction of Slip road to provide access to Ajao Estate, construction of Lay-bys and installation of Street Light.
Speaking while flagging off the project, the state's commissioner for Waterfront Infrastructure Development, Adebowale Akinsanya, said the project was in line with the commitment of the present administration to transform the entire axis, being the major gateway to the country's commercial nerve centre.
He said the road is one of the busiest in the state with vehicular volumes averaging 50,000 vehicles daily adding that its poor state was not acceptable for the status of the state as the fifth largest economy in Africa and the nation's commercial hub.
He said some of the fences along the corridor have been identified to be within the right of way, but that government would minimize the impact of the project on property owners.
He said in order to properly carry along people of the area, a stakeholders' meeting will hold on Thursday to sensitize the people whereby they will have an opportunity to ask the necessary questions.
He said to fast-track the project, three groups of workers will work on the project day and night. He added that while on completion, the project will be linked to the Oworonshoki reclamation project, which is also ongoing and is aimed at transforming the corridor to a major entertainment and tourism hub.
The Commissioner, however, urged residents and motorists to cooperate with government while the construction will last, saying that the intention was to transform the area.
"There will be some minor inconveniences but we are going to try to mitigate the impact. The work will be accelerated. The project is to make life easier for everybody. We just want to appeal to people to cooperate with us. We will be here to talk to the people in case of any issue and we are also working with our partner, the Federal Airport Authority of Nigeria (FAAN)," the Commissioner said.