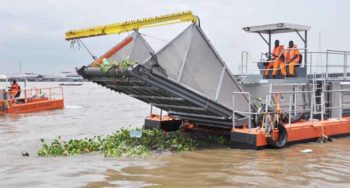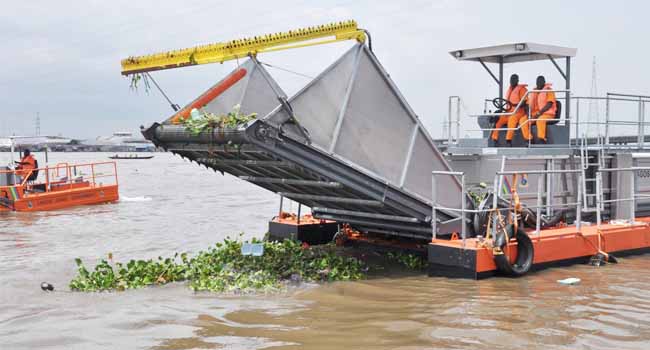 Acting Lagos State Commissioner for Transportation, Prince Olarenwaju Elegushi has said that while the government is making strategic efforts in re-positioning water transportation in the state, a few challenges stand in the way, adding however that the government had not relented in addressing them.
According to him, one of the challenges that has been addressed is the menace of water hyacinth on the waterways and the extensive damage it has caused to ferry engines.
"The state government purchased and deployed harvester on the waterways. This has produced a safer and efficient water transportation system as well as creating jobs. During the period tons of water hyacinth were harvested. Not only has it been of benefit to water transport operators, communities have benefitted by way of protection from reptiles, a common feature before the harvest.
"Furthermore the Waterways Authority undertook what is called 'Keeping the waterways clean'; It is an exercise designed to generate awareness on the effect of poor sanitation on the waterways. Lagos waterways are constantly exposed to industrial wastes and also people discharging the refuse into the water bodies.
"This impact negatively on the waterways and its embrace by the public is considered a germane strategy by which more sustainable water transportation can be realized," he declared.
The Commissioner said the State government is determined to leverage the great potential that water presents in the state in the area of transportation and leisure.
He said that in realizing this objective, the establishment of Lagos State Waterways Authority (LASWA) for regulation and Lagos State Ferry Services (LAGFERRY) as the operational arm of the government is a positive step in providing water transportation services.
To pursue this agenda, he noted that attempt has been made to redress the less than two percent contribution of water transportation to the total traffic of all motorized public transport modes.
To find lasting solutions to the challenges militating against smooth water transportation, the commissioner said "A strategic activity we keep undertaking is Stakeholders Forum. This is to discuss regulations, policies, safety and operational challenges so as to find lasting solutions. it is our conviction that as we channel our energy towards agreeing the way forward, we are able to implement better our agreed ideals."    
Copyright 2017 Ships & Ports Ltd. Permission to use quotations from this article is granted subject to appropriate credit given to www.shipsandports.com.ng as the source.