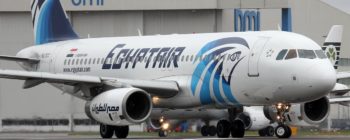 A plane crash that killed 66 passengers could have been caused by the pilot charging his iPad incorrectly in the cockpit, reports say.
French authorities have ordered an investigation into whether the EgyptAir flight MS804 was brought down by a fire caused by overheating mobile devices.
It is believed CCTV footage shows the first officer had placed a tablet and bottle of perfume on an instrument panel close to where the blaze is believed to have started.
The probe is set to focus on whether an Apple iPhone 6S and an iPad Mini 4 belonging to the first officer on board may have caught fire after being plugged into an incorrect socket.
The flight crashed into the Mediterranean en route from Paris to Cairo on May 19, 2016.
A source close to the investigation said, "Cockpit plugs are not made for toasters or coffee pots. They're for professional use.
"At this stage, the combustion or self-combustion of a tablet in the cockpit is the working hypothesis."
In a statement, Apple said there was no evidence to link its products to the disaster.
"We haven't been contacted by (Air Transport Gendarmerie) or any authority investigating this tragic event.
"We have not seen any report, but we understand there is no evidence to link this event to Apple products.
"If investigators have questions for us, we would, of course, assist in any way we can," Apple said. 
The theory of the crash being caused by overheating mobile devices is contrary to the Egyptian authorities' long-held belief that the jet was downed by a bomb placed on board at Charles de Gaulle Airport.
Last December, an Egyptian investigative committee claimed it had found traces of explosives on the victims' remains.
But last month, a source revealed that 'no explosive charges' aboard the plane and "no traces of powder were found".
Copyright Ships & Ports Ltd. Permission to use quotations from this article is granted subject to appropriate credit given to www.shipsandports.com.ng as the source.