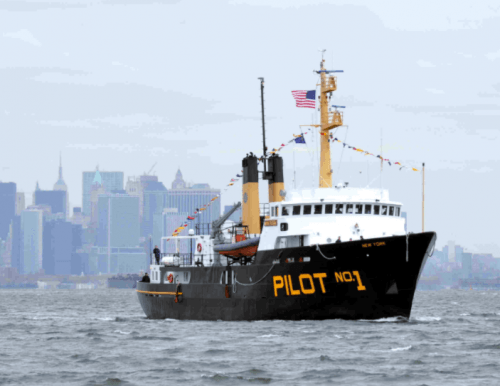 A Sandy Hook ship pilot has died after falling during a boarding of an inbound containership at the Port of New York and New Jersey on Monday morning.
The U.S. Coast Guard said it responded with units from the New York Fire Department and New York Police Department Harbor Police after the pilot fell while boarding the U.S.-flagged Maersk Kensington at 4:30 a.m.
The pilot was transported to a hospital on Staten Island by a Sandy Hook pilot boat, but eventually succumbed to injuries received in the fall, the Coast Guard said.
The U.S. Coast Guard has launched an investigation into the circumstance surrounding the fall.
The Sandy Hook Pilots Association operates two "Ambrose class" station boats, the PB New York, which is used as the winter boat, and the PB New Jersey, utilized during the summer, as well as four smaller "America class" boats, which are used for pilot boardings and transporting pilots to and from the pilot station. It also has one larger boat, named Sandy Hook.
The Coast Guard did not specify which boat was involved in the accident. 
The MV Maersk Kensington was arriving from Algeciras, Spain when the incident occurred, according to AIS data. 
The name of the deceased is being withheld until 24 hours after the next of kin have been notified, the Coast Guard said. 
Around the time of the accident, the National Data Buoy Center's New York Harbor Approach "Ambrose Light" buoy (Station 44065) was reporting significant wave heights in excess of 4 to 5-feet, with winds gusts up to 30 knots.
In 2014, four Sandy Hook pilots were injured after the America class boat Wanderer collided with a containership.