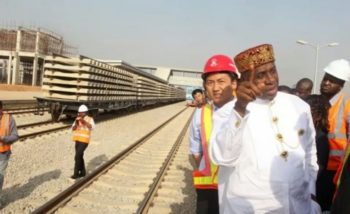 The Minister for Transportation, Rotimi Amaechi announced on Thursday that work will begin by June on the Lagos corridor of the Lagos-Ibadan standard gauge rail project.
He made this known after the project inspection meeting of the project at Papalanto, in Ogun State.
Amaechi expressed appreciation to efforts by Lagos State government in finding lasting solutions to the challenges inhibiting the pace of work.
He listed gas and petroleum pipeline, water and sewage removal as well as other structures as among the challenges besetting the project.
Assessing the pace of work, the minister concluded that work has moved speedily from Ijoko to Ibadan, Oyo State capital.
He said, "We have made appreciable speed between Papalanto and Ibadan and in order not to affect our deadline, we need to resume work in Lagos."
He said the contractor has not only made appreciable progress in the kilometre of tracks laid but has commenced the laying of beams of two bridges at Papalanto.
Though he could not confirm how many kilometres of tracks have been laid, Amaechi disclosed that 17 bridges are to be constructed between Papalanto and Ibadan, while two would be coming up in Lagos.
Amaechi had earlier before the meeting hinted of the Federal Government's readiness to go ahead with the project if Lagos continues to pose a challenge.
He said, "We agreed a long time ago that while we (Federal Government) would take care of the gas and petroleum pipelines, Lagos would take care of the replacement of the water and sewage removal.
"If Lagos refuses to come up with their solutions, we would be left with no choice but to use our old, narrow gauge alignment, which can accommodate what we wanted to do and leave Lagos to look for another alignment when they are ready to commence their Red Line light rail project."
But after the meeting, Amaechi admitted much grounds had been covered and Lagos has come up with a workable solution.
"We have agreed that Lagos State should come back to the meeting within the next two weeks with their solutions so that work can resume as scheduled on the Lagos corridor by June," Amaechi stated.
Speaking on the threat posed by the rainy season, Amaechi said the engineers have assured the project team that work would continue regardless of the natural elements.
He said the CCECC has assured that it would keep to terms and deliver the project by December.