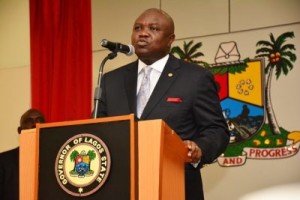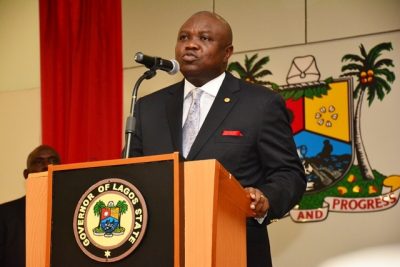 By Ace Omozuwa
When I read  the news report that the Lagos State Governmenthas declared Thursday 29th of March a public holiday on account of the President's two-day working visit to the state, my mind immediately went to the recent forum organized by the Lagos state government with the caption; "Lagos Means Business."  The forum was a huge a success as it showcased the variegated windows of opportunities that exist in Lagos, its myriad of challenges, and government's strategic plans to tackle them frontally.
Lagos is a model state. It prides itself as the center of excellence.  Many reasons abound why this rather vaunting, self-glorifying descriptor is true. It is economically viable. It is the commercial headquarter of Nigeria. It is about the only state that can meaningfully thrive on its internally generated revenue. Itsairports and seaports are the busiest in the sub region.
Alhaji Aliko Dangote, is fond of eulogizing Lagos.  During the "Lagos Means Business" forum he noted that Lagos is"the most convenient and peaceful state for doing business." If a highly successful serial investor with business interest around Nigeria and beyond can make such emphatic nonpartisan statement about the business environment of Lagos, nobody would want to readily contest the verity of the claim. But a question arises. Is Lagos as friendly to the middle class and the underclass as it is to men like Alhaji Aliko Dangote? We cannot categorically say Lagos means business until those at the bottom end of the poverty ladder no longer live under the bridge.
Indeed, Lagos is a model state. For it will always make an interesting study on the dynamics of a harmonious and prosperous multicultural and multi-religious society. The occurrences of business-paralyzing intertribal, intra-tribal and ethno-religious conflicts are sporadic, in fact, very rare, and pocket-sized in the metropolis. There is something refreshingly cosmopolitan about Lagos that says, "this is your home", to all and sundry. Regardless of race, tribe, gender, class, educational status, level of skilldevelopment and religious background, the industrious feel at home in Lagos. In other words, Lagos will score high on any type of inclusivity scale. This implies that the drivers of progressive development in Lagos cannot be objectively and sufficiently examined without accentuating its cosmopolitan spirit.
Other states in Nigeria that aspire to be like Lagos should be mindful of the fact that the creative instincts of economic agents do not bloom in socioeconomic and cultural atmospheres that do not say to everyone; "you are free to be free within the ambit of human laws." Nobody should get deluded into thinking that the population of Lagos is a uni-essential driver of growth. There is no such thing. A confluence of forces drives growth in Lagos.  Its cosmopolitan genius is an integral part of the confluence.
Lagos is a model state when you look at its commitment to infrastructural development and renewal. When other states in the nation are heavily dependent on federal allocation to discharge their recurrent financial obligations, Lagos is embarking on capital projects funded by internally generated revenue (IGR), public-private partnership, aid-loans, et cetera.
It is not hard to agree that Lagos means business when you look at the elite crop of visionary progressives that have provided leadership to the state since 1999. Lagos is blessed with good leaders; leaders with vast and salutary experiences in the private and public sector.Leaders that think development, and excel in translating visions to reality.Leaders that think beyond today and see the future.  Lagos gets the kind of leaders it deserves.
I hope the foregoing does not tacitly suggest that Lagos is an Eldorado. Far from it! Lagos is not immune to the contagious malaise of Nigeria. For example, Apapa, the commercial hub of Lagos cannot boast of passable roads. To be caught in the traffic gridlock along wharf axis is a classic hell-on-earth experience. To many road users,"Lagos Means Business" is a mere political slogan. This is because their quality of life is diminished by the number of hours they waste in traffic. Their economic fortunes are also endangered by the unpredictable nature of vehicular traffic in Lagos.
Perhaps, the state government declared Thursday a public holiday for ease of traffic so that Mr. President will not slightly experience traffic jam. If so it is understood. However, the government should not forget that what is good for the President is good for the citizenry. In fact, leadership that makes itself reasonably vulnerable in order to feel the peoples' pain is the kind of leadership that will move Nigeria forward. The story is told of how Alexander the Great and his army were near death because of prolonged dehydration. Indeed, some of his brave men died in that expedition due to exhaustion. When a jar of water was found and brought to him, his keen moral scruples prohibited him from drinking it. And when asked, he explained that he cannot drink when others have nothing to drink.
We need leaders that can feel the pain of the underclass, even if it is momentarily.  There is something abhorrent about the hierarchy of power in Nigeria. Those at the peak of the ladder are oblivious of the pathetic socioeconomic conditions of the indigent, powerless and voiceless. Positions of power are not meant to shield their occupiers from reality; otherwise, they cannot be true agents of change.
Lagos is not an island of splendor. It is a mishmash of glory and gory. Mountains of biodegradable and non-degradable waste could be found in posh neighborhoods. Rare symbols of affluence dot the maggoty streets of Lagos. "Lagos Means Business" will convey a deeper meaning when the streets become cleaner, and vehicular movements are not impeded by flood. Let's not even mention buildings and properties devalued by flood. It is difficult to know what exactly the government of Lagos wastrying to hide. From my standpoint of view, the President would have had a better and richer experience of what life in Lagos is, if a public holiday was not declared. I guess someone will say the government was not hiding anything. That they were constrained to declare the public holiday for security reasons.
The intelligence community knows better.They often act as if they are all-knowing. They are privy to what "ordinary citizens" do not know, cannot know, and must not know. However, in the age of smart security, it is not salutary that the commercial nerve centre of Nigeria was ordered into lockdown seemingly to guarantee the maximum security of the president. When the socioeconomic cost of such lockdown is computed, the question that will inevitably arise is: So Lagos means business?
Copyright Ships & Ports Ltd. Permission to use quotations from this article is granted subject to appropriate credit given to www.shipsandports.com.ng as the source.