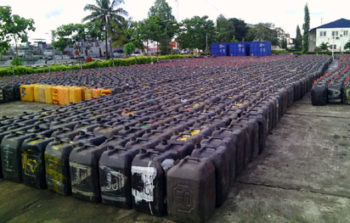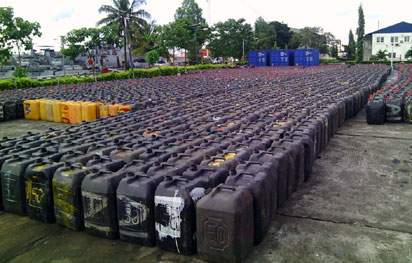 By Omotilewa Quadri 
Public Relations Officer of Nigeria Customs Service (NCS), Joseph Attah, says the Service seized 174,015 litres of petroleum products valued at about N27 million in 2017.
Attah disclosed this in Abuja on Monday. He said just like any other products, the NCS had been doing a lot to ensure that products that should not be exported were not, as well ensure that prohibited goods were not smuggled into the country.
"In the case of petroleum products, the statistics here is that of Jan. 2017 to Jan. 2018. A total of 174,015 litres have been seized across the Customs Commands.
"Further breakdown shows that within this period, 81,270 litres of petroleum products were seized in Seme border, 69,150 litres in West Martine Command, 10,000 litres in Federal Operations Unit Zone D, that is the Northeast.
"In Sokoto, 1,775 litres were seized, 10,5,00 litres in Ogun, 1,320 litres in Adamawa/Taraba, making a total of 174,015 litres with Duty Paid Value (DPV) of N27, 755,492.
"This is the value of what have been seized across the country by the NCS. In our efforts to ensure that petroleum products are not smuggled out of the country," Attah said.
He said there had been a lot of anti-smuggling strategies by the Service to ensure that smuggling of goods were curbed.
He said in February, the Comptroller-General of Customs, Hameed Ali, dissolved the Compliance Team and constituted a Strike Force to operate under a new mandate.
Attah said the idea was to ensure the operation of anti-smuggling team doesn't impede trade facilitation.
He added that this was done in such a way that those smugglers who must have escaped the watch and catch of Customs officers at the border lines would not get away with the Strike Force.
Attah said the Strike Force had been stationed in strategic position either at the Zonal offices or the Customs Training College, adding that they spring into action when they received credible information about smuggling of petroleum products and other goods.
He said the challenges being faced by Customs officers was that of too many licensed filling stations in villages that shared borders with neighbouring countries.
The Cutoms spokesman also complained of too many petrol stations along border lines that usually help to make smuggling of petroleum products easier for smugglers.
He stressed the need or the appropriate authorities to take a review at the issuers of such licenses.
The spokesman said in a situation where anti-smuggling operatives sight petroleum tankers heading toward border lines and these tankers go to a petroleum station that is licensed, an officer would not be able to stop them.
Attah said when it offloaded the products into the station, one could never tell what happens in the night, adding that these stations sold these petroleum products into Jerry cans and carry them on camel, donkey and motor bikes through footpath.
"So, it makes the job of policing the movement of petroleum products on motor bikes more difficult, there are many border stations that have up to 30 to 40 filling stations.
"So, a review on who get licensed and where the filling station are going to be located, should be considered before issuing licenses, we believe this will be helpful in curtail smuggling.
"We will continue to ensure that petroleum products are not smuggled out, we will continue to be on the lookout and if we see three to four Jerry cans on motor bikes, we will definitely go after them.
"Because they may just be petroleum products being smuggled out," he further stated.
Attah said the Service was also deploying intelligence to strengthen its operations.   
Copyright Ships & Ports Ltd. Permission to use quotations from this article is granted subject to appropriate credit given to www.shipsandports.com.ng as the source.