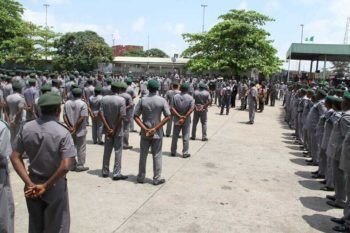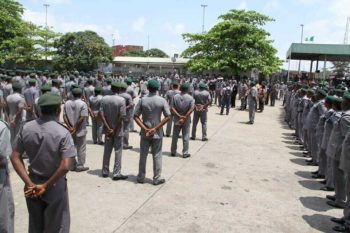 To address the problem of lack of accommodation facing serving Customs officers in the Lagos, the Nigeria Customs Service (NCS) said it has commenced moves to evict "illegal occupants" of its quarters located at Gowon Estate in Lagos.
SHIPS & PORTS DAILY had reported on August 14 that some officers on transfer had resorted to sleeping in offices, cars and mosques at some of the commands in Lagos including Tin Can and Apapa due to lack of accommodation. 
It was gathered that no fewer than 200 unit of housing belonging to the Service at Gowon Estate have been taken over by illegal occupants including some retired officers and those serving outside the Lagos commands.
Coordinator in charge of Zone A of the NCS, Assistant Comptroller General of Customs Aminu Dahiru, confirmed plans to recover the official quarters. 
Dahiru, who also confirmed the earlier report by SHIPS & PORTS DAILY, said efforts were ongoing to ensure that officers on transfer to Lagos got decent accommodation.
He said, "We have paucity of accommodation and many of our officers in Lagos are sleeping in the offices at Tin Can and Apapa. Those on transfer out of Lagos are expected to do the lawful thing by packing out because I believe they were happy when those houses were allocated to them on arrival to Lagos. Now they want to deprive others similar joy just because of selfishness. We are working seriously to see that we get those houses back to the Service so that serving officers can continue to make use of it.
"I cannot imagine how serving officers could retain a house for five years just because he pays N10,000 expiration of interest.
"Any officer not serving in the commands in Lagos, we request them to come and pack so that we can allocate them to officers who are sleeping in the offices. We have some who have died while in Service and some on retirement, but their families are still occupying those quarters.
"If you are transferred, you have a grace of one month to vacate. If you are retired, you are free to remain in the quarters till after three months. There is a time limit that serving officers should leave because others are being posted. 
"From investigation, we discovered there is someone who has been living there since he retired in 2007 and until today, he is still there. Those who paid N10,000 now believe the houses belong to them and when my predecessors tried to correct that, they will tell them that the case is in court so nobody will want to be charged with contempt of court and I will not blame anybody."