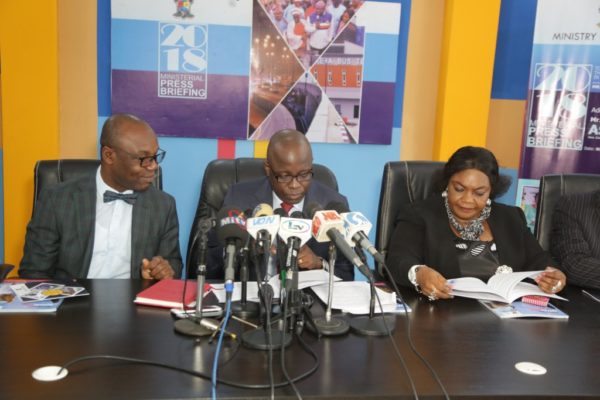 The Lagos State Government has said the state has an average monthly Internally Generated Revenue (IGR) of N34 billion in 2018 compared to monthly averages of the last three years.
The State's Commissioner for Finance, Akinyemi Ashade made this known on Monday at a ministerial press briefing in Alausa, Lagos.
Ashade attributed the gradual improvement to the impact of the ongoing reforms and growth in the State's economy.
He said, "Notably, we are recording gradual improvement in our average monthly IGR in 2018 compared to the levels achieved in previous years due to the impact of ongoing reforms and growth in the State's economy.
"Based on our first quarter results, Lagos State has so far achieved an average monthly IGR of N34billion in 2018 compared to monthly averages of N22bn, N24bn and N30bn in 2015, 2016 and 2017 respectively."
Ashade expressed hope that the IGR would continue to rise even further as the state continues to implement the various reforms, driven by wider technology adoption and innovation, adding that the target to grow the state's IGR to N50bn by next year was well on course.
He said, "The target we set for ourselves is N50 billion but we all know the kind of push backs we have experienced including people going to court and all that. Our commitment is not for now, it's for the future of Lagos.
"We know it's a marathon, we would win some and we would lose some, but we are very committed towards ensuring that we meet the target, but if we don't meet it this year, definitely there would be another year. We believe we would succeed in that target we set for ourselves."
Ashade said the State's current debt profile of N874.38 billion is manageable and that the debt service charge to total revenue ratio is still within the World Bank threshold of 30%.
He noted that the Lagos State Government debt stock-to-GDP as at 2016 had been maintained at 2% from 2015, while reported total debt-to-total revenue in 2016 was 150% from 129% in 2015; both ratios being well below the World Bank thresholds of 40% and 250% respectively.
Ashade said the reported net debt stock, comprising of 48% local debt and 52% foreign debt, amounted to N874.38 billion at the end of 2017, while the debt service charge to total revenue ratio, which stood at 17.61% compared to 13.32% in 2016 and 12.45% in 2015, is still within the World Bank threshold of 30%.
He explained that the government had established a multi-year infrastructural development bond of N500 billion out of which the State had issued a cumulative amount of N132.14 billion, adding that the first tranche of N47 billion was issued in December 2016, while the second tranche of N97 billion was issued in August 2017.
He said, "The sustained interest in the Lagos State Government Bond Issuance Programme is a confirmation of investors' confidence in the State Government and its instruments. As at 28 February 2018, the State Government had accumulated over N36.7 billion in the Sinking Fund accounts managed by independent trustees towards the redemption of existing bonds, with the next set of bond tranches of N80 billion and N87.5 billion set to mature in November 2019 and 2020 respectively."   
Copyright Ships & Ports Ltd. Permission to use quotations from this article is granted subject to appropriate credit given to www.shipsandports.com.ng as the source.