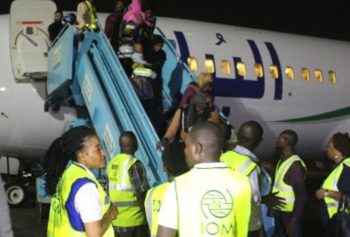 Another batch of 162 repatriated Nigerian migrants from Libya arrived the Murtala Muhammed International Airport, Ikeja, late Thursday.
The migrants who were repatriated under the Voluntary Returnees Scheme facilitated by the European Union / International Organization for Migration (IOM) arrived in an aircraft with registration number 5A-DMG.
Three of the returnees arrived with minor medical cases while 15 others arrived heavily pregnant.
The breakdown shows that there were 83 female adults, six female children and six female infants. Others included 62 male adults, two male children and three male infants.
The Director-General, National Emergency Management Agency (NEMA), Mustapha Maihajja, represented by the Lagos Zonal Coordinator of NEMA, Alh. Yakubu Suleiman received the returnees on behalf of the Federal Government.
He advised the youths to embrace regular migration and warned prospective migrants not to endanger their lives by embarking on irregular migration.
The NEMA boss was further quoted as pointing out that migration has been part of human life from the time of creation for different reasons, though it is not mandatory of intended host country to accept the migration based on the country's national policies.
"Nigerian youths seeking greener pastures outside the shores of this country should know that they would become second citizens in their host countries except for those who entered such country through regular means that may possibly have limited rights", he said.