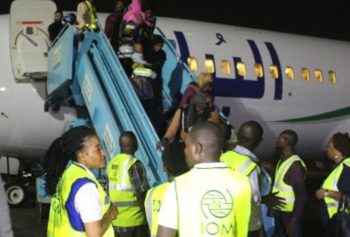 The National Emergency Management Agency (NEMA), on Friday, said the International Organisation for Migration (IOM) and the European Union (EU) have repatriated 186 more Nigerians from Libya.
The spokesperson for NEMA South-West Zone, Ibrahim Farinloye, made this known to journalists in Lagos.
He said the repatriated Nigerians arrived in two batches at the Murtala Muhammed International Airport (MMIA), Lagos on Wednesday and Thursday.
Farinloye said, "Within 24 hours, NEMA has received 186 Nigerian Returnees from Libya on two different flights at the MMIA, Lagos.
"The flight with 154 returnees arrived the airport at 8:45 p.m on Thursday aboard a chartered Libya Airline with registration number 5A-DMG. They were received at the Cargo Wing of the airport.
"The other 32 returnees arrived via a commercial flight, which landed at the International wing of the airport on Wednesday at 3:45 a.m."
According to him, the repatriated migrants comprised of 99 female adults, 75 male adults, four children and eight infants.
Farinloye said the new arrivals were those based in Libya but voluntarily decided to return home when the opportunity came from IOM because of the current volatile state of the North African country.
He disclosed that IOM had started training past returnees in batches in order to reintegrate them into the society.