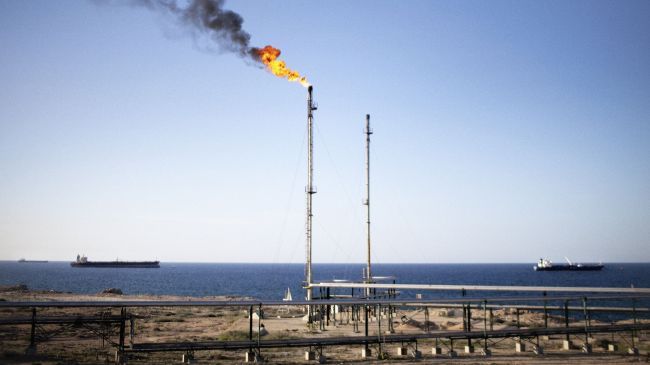 Two of Libya's biggest oil ports stopped loading on Thursday after clashes erupted between rival forces for control of the country's economic lifeline, taking more barrels off the market just as OPEC debates whether to boost production.
Fighting at Es Sider and Ras Lanuf terminals led to the loss of about 240,000 barrels of Libya's daily oil production, state energy producer National Oil Corp. said in a statement Thursday. NOC evacuated staff from both terminals, which account for 40 percent of Libya's oil exports, and declared force majeure on shipments.
The disruptions come a week before OPEC nations hold key meetings in Vienna with other major producers including Russia to discuss if they should stick with a pact to restrain oil supply after prices topped $80 a barrel in May. Oil producers were already facing growing pressure, including from U.S. President Donald Trump, to boost supply to offset disruptions caused by the economic crisis in Venezuela and renewed American sanctions on Iran.
Libya's oil output has rebounded over the past two years, but remains well below the 1.8 million barrels a day the country pumped before the 2011 campaign to oust Muammar Qaddafi. That NATO-backed war gave way to years of fighting among rival Libyan groups in which the country's oil installations became prized targets.
The Libyan National Army, led by self-styled eastern military commander Khalifa Haftar, restored oil exports from Es Sider, Ras Lanuf and other facilities in 2016 after wresting control from another armed group that had blockaded them for two years, devastating the economy and exacerbating political divisions.
The violence on Thursday came as Haftar's forces seek to capture the city of Derna, further east, and strengthen his political standing ahead of possible elections. The violence has overshadowed last month's agreement between Haftar and a rival United Nations-backed government in Tripoli to hold ballots in December as part of a broader plan to unify the country and restore peace.
UN-backed Prime Minister Fayez al-Sarraj warned in a Facebook statement that any escalation in fighting could lead to a "civil war all Libyans are trying to avoid."
The NOC declared force majeure on shipments at both terminals, according to an emailed statement signed by Chairman Mustafa Sanalla. Force majeure is a legal clause protecting a party from liability if it can't fulfill a contract for reasons beyond its control.
"The NOC board has called for individuals or political groups who attempt to capture Libya's oil installations, blockade production, or attempt to make NOC a bargaining chip to be brought to justice," the company said in a separate statement. It didn't name the parties behind the clashes. A planned tanker entry to Es Sider has been postponed, it said.
Tanker Minerva Lisa, set to load crude from Es Sider, was instructed to move 10 miles away from the port into deeper water, one person familiar with the situation said. Bloomberg tanker tracking shows the vessel headed away from the immediate vicinity of the terminal early Thursday. Another tanker, Astro Sculptor, set to load oil on June 16 at Es Sider, was canceled, the person said.
Es Sider was set to export 15 crude cargoes, or a total of 9 million barrels this month, while Ras Lanuf was due to ship five cargoes totaling 2.8 million barrels, according to a loading program obtained by Bloomberg.
Haftar's forces said in a statement that a group known as the Benghazi Defense Brigades had launched the attack, resulting in a fire at a storage tank used by Harouge Oil Co. Storage tanks at the terminals had already been damaged in previous bouts of fighting.  
Copyright Ships & Ports Ltd. Permission to use quotations from this article is granted subject to appropriate credit given to www.shipsandports.com.ng as the source.