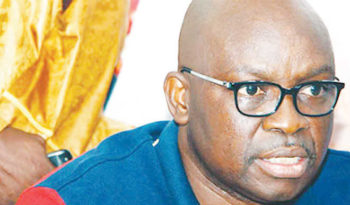 The Department of Petroleum Resources (DPR), has expressed displeasure at the seemingly arbitrary manner in which some petroleum marketers are sitting their petrol stations in Ekiti state.
This came as petrol station owners in the state have resumed the strike they suspended earlier last week over the revocation of their operation licences.
Vehicle owners and transporters, it was gathered are now travelling to neighbouring states to purchase petrol as five litres of the commodity now sells for as much as N1500 in Ado Ekiti.
The regulatory body for petroleum activities in Nigeria, which supported Governor Ayodele Fayose 's action on the matter, said some of them were found to have violated regulations guiding the sitting of the petrol stations.
The Southwest Comptroller of DPR, Wale Oseni, who led the DPR team to Government House in Ado-Ekit, the state capital, at the weekend revealed that his team was already beaming its searchlight into the activities of the petrol marketers in the state, cited a petrol station currently under construction in Adehun Area of Ado-Ekiti, as one of those against the regulations of the body and revealed that the station in question had failed to inform the DPR of its operation.
Describing the act as criminal, he noted that the owner tactfully covered up the construction work in order to keep it away from the public knowledge until it is completed, noting that such was unacceptable.
Speaking on building of filling stations beside schools and residential areas, Oseni noted that retail outlets are not supposed to be built close to schools particularly if the schools had been in existence before the filling stations.
He said: " safety comes first and as a regulatory body, there must be a synergy between the DPR and marketers to know appropriate sites where they would locate their stations. I will in due time make my findings available to marketers in the state.
Explaining the rationale behind his government's recent clampdown on marketers said to have violated the DPR's regulations, Governor Ayodele Fayose disclosed that part of the efforts of the State government was to expose to the DPR, some alleged unwholesome under-dealings being perpetrated by some marketers.
"we have taken some of the steps we took to make the DPR see the situation of things here and to afford you the opportunity to see the sites of the controversial filling stations.
"As much as the government would want ventures under its watch to thrive, it will not do so at the detriment of the lives and properties of others. The last fire incident in the state capital has challenged us to be proactive rather than engaging fire brigade approaches."
According to the governor, the construction of the filling station at the Adehun Area of Ado-Ekiti was stopped by his government because it was being built on water ways after the last administration had demolished structures on the same land to ensure safety of lives and property