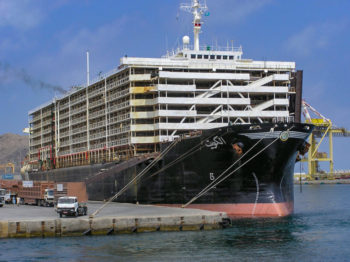 A Brazilian federal court late on Sunday lifted an injunction blocking the shipment of around 25,000 cattle from the port of Santos, allowing for the individual cargo to leave port but leaving in place a broader ban on shipments of live animals.
The initial injunction had been granted on behalf of an animal rights group known as Fórum Nacional de Proteção e Defesa Animal, which had argued that long-distance shipping practices amount to animal cruelty, according to the court ruling.
The shipment has now left port and is headed to Turkey, according to a spokesman for Minerva SA, the Brazilian meatpacker that sold the animals to a client in that country. The journey generally takes 16 days.
Shipment of live animals from Brazil remains forbidden after a lower court imposed an injunction on Friday.
Originally 27,000 head were supposed to be shipped on Feb. 1, but the injunction that prevented the ship's departure also led to some of the animals not being loaded onto the Panamanian livestock vessel NADA.
Minerva said the lifting of the injunction only served to allow the NADA to leave Santos.
The animals left behind were placed in quarantine, the Minerva spokesman said. The exact location of the animals in Brazil could not be determined.
The ship set sail on Sunday, according to Companhia Docas do Estado de São Paulo, which operates Latin America's largest port at Santos. 
Copyright Ships & Ports Ltd. Permission to use quotations from this article is granted subject to appropriate credit given to www.shipsandports.com.ng as the source.