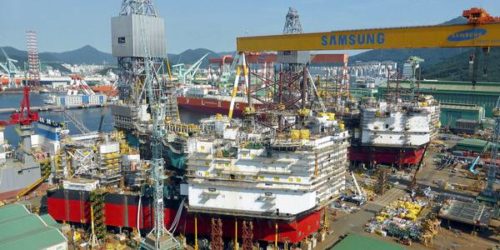 Samsung Heavy Industries (SHI) has agreed to pay a global penalty of more than $75m to resolve the US government's investigation into the shipbuilder's bribery case in Brazil.
South Korea's SHI entered into a deferred prosecution agreement with the US Department of Justice in connection with the company's conspiracy to violate the anti-bribery provisions of the Foreign Corrupt Practices Act (FCPA) arising out of a scheme to pay millions of dollars in bribes to officials in Brazil.
"Samsung Heavy Industries paid millions of dollars to a Brazilian intermediary, knowing that some of that money would be used to bribe high-level executives at Petrobras and obtain a lucrative shipbuilding contract," said Assistant Attorney General Brian A. Benczkowski of the Justice Department's Criminal Division.
SHI has committed to pay a total criminal penalty of $75,481,600 – 50% of which will be paid to the US and the remaining 50% will either be paid to Brazilian authorities or to the US.
US Attorney G. Zachary Terwilliger of the Eastern District of Virginia said: "Samsung Heavy Industries caused millions of dollars in corrupt bribe payments to be paid to foreign officials to win business, upsetting what should have been a level playing field for other companies that followed the rules. Effective corporate policies and procedures are necessary to ensure that corporations do not engage in foreign bribery.  We will continue to hold corporations accountable."
SHI's criminal information was filed in the Eastern District of Virginia last Friday.
According to admissions by SHI, beginning in 2007 and continuing until 2013, the company conspired with others to violate the FCPA by corruptly providing approximately $20m in commission payments to a Brazilian intermediary, knowing that portions of the money would be paid as bribes to officials at Petrobras, Brazil's state oil and gas firm.
The shady deal was carried out in order for SHI to secure improper business advantages and to cause Petrobras to enter into a contract to charter a drillship that SHI was selling to a Houston-based offshore oil drilling company.
As part of the deferred prosecution agreement, SHI agreed to continue to cooperate with the US Department of Justice in any ongoing investigations and prosecutions, to enhance its compliance program, and to report to the department on the implementations of its enhanced compliance program.
Accordingly, the total criminal penalty reflects a 20% reduction off the bottom of the applicable US Sentencing Guidelines fine range.