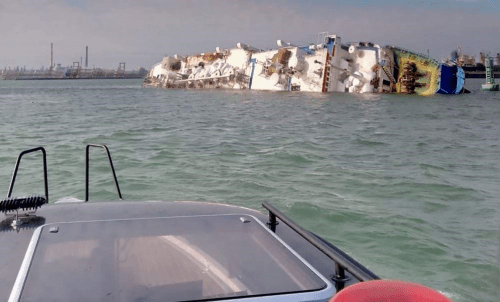 A livestock carrier carrying 14,600 live sheep has capsized in the Black Sea off Romania, prompting a frantic effort to save the animals.
The ship, the Queen Hind, had just departed the port of Midia when it capsized. It was bound for Saudi Arabia.
A small number of sheep were rescued from the water, but the vast majority of the animals appear to be trapped inside the ship.
All 22 crew members of the Queen Hind, reported to be Syrian nationals, have been rescued.
The cause of the incident is under investigation.
The M/V Queen Hind was built in 1980 and is registered Republic of Palau.
The livestock trade has historically faced immense scrutiny over its handling of animals.
"We have drawn attention since last year to the non-conformities regarding the welfare and health of animals during the transport of live animals, sheep, in particular, from Romania to third countries, especially in the Gulf area," commented Romania's Minister of Agriculture and Rural Development, Nechita-Adrian Oros.
Since July, Romania has had a draft law requiring the daily monitoring of animals on board livestock ships by a veterinarian.
"When I was informed about the accident in the port of Midia, I immediately contacted the president of the National Authority for Veterinary and Food Safety, Dr. Csutak Laszlo Nagy, who informed me about the welfare and health conditions when boarding the animals. on the ship. We also requested additional checks on the collection centers from where the animals were sent," said Oros.