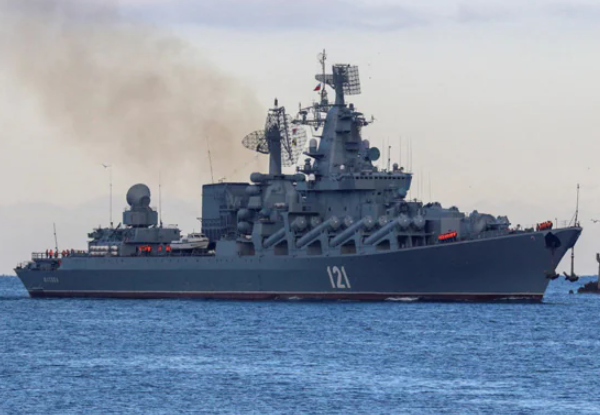 One of Russian Navy's most important warships has sunk in the Black Sea, a massive blow to a military struggling against Ukrainian resistance 50 days into Vladimir Putin's invasion of his neighbour.
Russian state news agency TASS reported Thursday evening that the guided-missile cruiser Moskva had sunk, citing a statement from the Russian Ministry of Defense.
"During the towing of the cruiser Moskva to the port of destination, the ship lost its stability due to hull damage received during a fire from the detonation of ammunition. In the conditions of stormy seas, the ship sank," the statement said, according to TASS.
Conflicting accounts have emerged about the incident.
Ukraine's Operational Command South claimed earlier on Thursday that the Moskva had begun to sink after it was hit by Ukrainian Neptune anti-ship missiles.
"In the Black Sea operational zone, Neptune anti-ship cruise missiles hit the cruiser Moskva, the flagship of the Russian Black Sea Fleet – it received significant damage," the statement said. "A fire broke out. Other units of the ship's group tried to help, but a storm and a powerful explosion of ammunition overturned the cruiser and it began to sink."
Russia said a fire broke out on the guided-missile cruiser, causing munitions aboard to explode, inflicting serious damage to the vessel, and forcing the crew of the warship to be evacuated.
Earlier in the day Russia's defense ministry had said that the Moskva "remains afloat" and that measures were being taken to tow it to port. The ministry said the crew had been evacuated to other Black Sea Fleet ships in the area.
US National Security Adviser Jake Sullivan said on Thursday that "the way that this has unfolded is a big blow to Russia," as Moscow has had to admit its flagship has been badly damaged.
"And they've had to kind of choose between two stories. One story is that it was just incompetence, and the other is that they came under attack. And neither is a particularly good outcome for them," Sullivan told an audience at the Economic Club of Washington, D.C.
The 611-foot-long (186 meters) Moskva, with a crew of almost 500, is the pride of the Russian naval fleet in the Black Sea. Originally commissioned into the Soviet navy as the Slava in the 1980s, it was renamed Moskva in 1995 and after a refit. It reentered service in 1998, according to military site Naval-Technology.com.
Copyright Ships & Ports Ltd. Permission to use quotations from this article is granted subject to appropriate credit given to www.shipsandports.com.ng as the source.