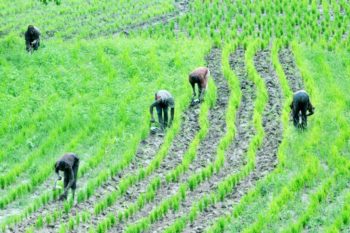 The Executive Director, Risk Management and Finance, Bank of Agriculture (BOA), Prince Niyi Akenzua, says Nigeria has saved over N216 billion from the importation of rice alone from Thailand and other countries, since the nation's domestic mass production flooded the markets under the Anchor Borrowers' Programme (ABP).
Akenzua, disclosed this on Thursday in Ibadan when he led some officials of the bank on a visit to Governor Abiola Ajimobi of Oyo State.
He said that the figure represented a fraction of a staggering $22 billion (N7.92 trillion) spent on importation of foods into the country annually prior to the advent of President Muhammadu Buhari's administration.
Akenzua said it was worthy of commendation that the country had committed itself to diversifying from oil economy, with emphasis on revitalisation of agriculture.
He said he had embarked on advocacy visit around the country to enlist the support and involvement of state governments in ABP, which freed the country from reliance on importation of rice.
"We enjoin Oyo State to participate in the ABP as we have remodelled the programme to expand the scope of beneficiaries.
"The pilot scheme was so successful that $600m was saved from rice importation due to massive rice production in the country.
"One or two rice millers in Thailand have closed down because Nigeria, which has always been their major importer, has stopped importing their rice.
"We used to spend $22 billion importing food into Nigeria and with our consciousness that every square meter in the country is arable land.
"We felt that it was not sustainable. Of course, the crash in crude oil price has forced us back to agriculture,'' he said.
Akenzua said that the state could choose a particular crop to produce under the programme, with a promise to co-fund or fund the production of such crop.
Ajimobi in his remarks commended the Minister of Agriculture and Rural Development, Chief Audu Ogbeh for the positive changes he had brought into the agriculture sector since he assumed duties at the ministry.
The governor stated that the fundamental problem besetting the country was attitudinal, stressing that the country was not bereft of knowledge, policies and programmes capable of enhancing its economy.
Ajimobi said that the state was supposed to be the food basket of the nation, if past leaders had seen agriculture as a major solution to unemployment, hunger and economic driver.
According to him, the state is in good stead to be a major agric hub, judging by the concentration of reputable research institutions in the state and its vast arable land.
"The state is also strategically located between Lagos, the commercial nerve centre of the country and the North among other comparative advantages.''
He advised the new management of BOA to do all that is humanly possible to sustain the momentum in its renewed drive to revitalise the agriculture sector.