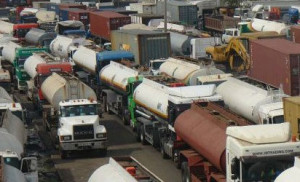 Nigeria Union of Petroleum and Natural Gas Workers (NUPENG) on Monday attributed the long queues of petroleum tankers on Marine Bridge, Apapa Road, Lagos, to non-loading in NNPC depots in Ejigbo and Mosinmi.
Chairman, South-West Chapter of NUPENG, Alhaji Tokunbo Korodo, gave the explanation in an interview in Lagos.
Korodo said that most of the petroleum tankers on queue at the Marine Bridge, Apapa, were loading NNPC products at NIPCO, Folawiyo and MRS depots in Apapa.
"Before, the corporation was using about six private depots to load its products in Apapa, but due to closure of Capital Oil and Gas, they are now using the aforementioned tank farms.
"This has resulted in delay in loading and lateness in getting the products to filling stations.
"If you are going to Wharf through Ijora Road, the queues of tankers are disturbing free movement of vehicles.
"NNPC should reconsider its decision and resume loading of products at its depots nationwide, to reduce the problem.
"Although skeletal loading is going on in other depots in tank farms in Apapa, it cannot be compared to NNPC.
"This is because they are a major importer of refined products in the country," he said.
Korodo urged the government to resolve amicably the crisis that led to Capital Oil and Gas closure, which had made no fewer than 2,000 workers jobless.
He said the closure was affecting smooth loading of petrol and other products, because Capital Oil and Gas Ltd. used to be one of the major distributors of NNPC products.
The NUPENG chairman said tankers that were supposed to load at the tank farms were causing the gridlock at Marine Bridge in Apapa.